Minhaj-ul-Quran International, Netherlands
A large number of expatriate community lives in this country. Holland is an important commercial centre of Europe. Minhaj-ul-Quran International was formally founded here in 1992 when work got underway under the supervision of Hafiz Nazir Ahamd Khan in Rotterdam. The building of the Islamic centre in Rotterdam is owned by Minhaj-ul-Quran International. The work of the Prophetic mission has spread to the other cities of Holland.
The second Islamic centre is located in Dee Hogg,[Hague] which is busy in its operations since 1995. The third centre is located in Eind Hoven. It was established here in 2003 and is owned by Minhaj-ul-Quran International. There are mosques, the offices of youth centres and mobile libraries in these centres. In addition to weekly training sessions, the video lectures of Dr Muhammad Tahir-ul-Qadri are also played here. Minhaj Welfare Foundation is actively working to achieve its laid down objectives.
Shaykh-ul-Islam Dr Muhammad Tahir-ul-Qadri undertook his first visited Holland in July 1991, which provided an impetus to the missionary efforts there. He undertook his second visit to the country in July 1996; then he he delivered special lectures on various aspects of the mission in various cities of Holland.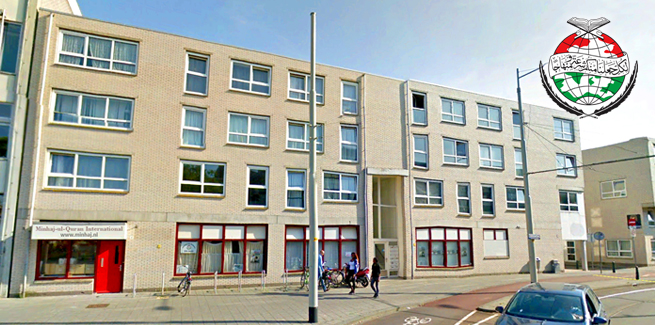 Minhaj-ul-Quran Islamic Centre, The Hague Netherlands
Minhaj-ul-Quran International, Netherlands
Hobbemastraat 4, 2526 JN, The Hague
The Hague
Minhaj-ul-Quran International, The Hague
Hobbemastraat 4, 2526 JN
Rotterdam
Minhaj-ul-Quran International, Rotterdam
Polslandstraat 13, 3081 TK