Only rulers responsible for people's killing: Qadri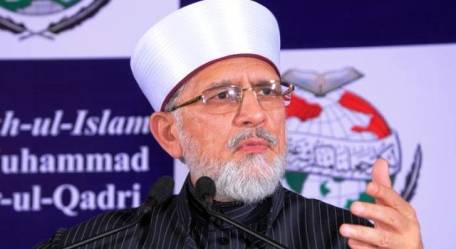 PAT chief believes constitution being desecrated in Pakistan
NEW YORK: Pakistan Awami Tehreek (PAT) chief Dr Tahirul Qadri has said that no militant organisation but sitting leadership is responsible for the Model Town tragedy in which at least 11 people were killed and many others injured during a clash with police on June 17.
Addressing a convention in Houston, he said that the constitution was being desecrated and this was the time for new socio-political contract. He questioned what sort of economic vision was that to privatise the state institutions. During its two tenures, the ruling party sold 52 state institutions and it was planning to sell 38 others.
The PAT chief said that when there would be no security to investment and corruption then why would any investor come and waste his money. He said that the people of Pakistan were fed up due to poor governance of sitting leaders and "we are fighting to develop Pakistan into a welfare state for the poor and the middle class."
He said that the 70-day sit-in of PAT was only to get the poor and middle class their constitution rights. "We plan to hold rallies and sit-ins in all cities of Pakistan and we also plan to re-organise the PAT at grass root level," he said.
About Dr Allama Muhammad Iqbal, he said all overseas Pakistanis should follow the message of the great philosopher and work hard and achieve distinctions in their studies. He said that when PAT comes into power Iqbaliat would be part of the curriculum at all levels of studies. He said that Iqbal's message would create at true democratic Pakistan.
Source: www.dailytimes.com.pk