The way forward: 'PAT had consulted PTI before ending sit-in'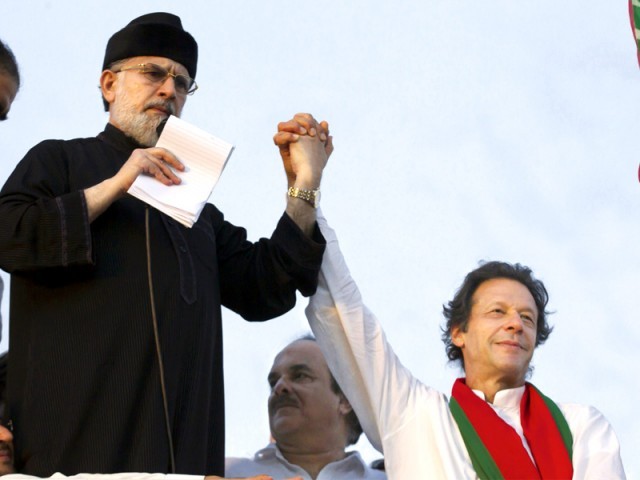 ISLAMABAD: Pakistan Awami Tehreek (PAT) called off its Islamabad sit-in on October 21 in consultation with the Pakistan Tehreek-e-Insaf (PTI), the party's central leader said on Saturday.
"After analysing the situation that the sit-in had become stagnant, static, irrelevant and failed to achieve its main objective —toppling the PML-N led government — PAT chief allowed his workers to leave the venue," the party's central president , Dr Raheeq Ahmad Abbasi, said.
"Paucity of funds was also one of the main reasons," Abbasi told The Express Tribune.
During the consultation process, Abbasi said, the PTI leadership conceded that it could not topple the government with these sit-ins and it was better to launch an awareness campaign across the country.
Abbasi also laid to rest speculation of any rift with the PTI. "We are still in contact with PTI leadership."
To another question regarding cases filed against the government high-ups for Model Town firing and police brutality against protesters, the PAT leader said they would pursue all cases in the courts.
Abbasi said that the party has devised a new plan to bring about the revolution envisaged by its leader. According to new plan, Dr Qadri will return Pakistan on November 19 and launch election campaign besides addressing scheduled public gatherings and sit-ins in different cities.
PAT chief has already made it clear that his party would participate in by-polls besides local government and general elections. The party had rejected the whole electoral system. "PAT has been restored in electoral politics. You will see us turning PAT into the country's largest political party," Abbasi said.
PAT chief Tahirul Qadri had said the Islamabad sit-in had swollen into nationwide sit-ins. He announced that rallies were postponed during Muharram.
The next rally in Bhakkar is to be held on November 23, followed by Sargodha on December 5, Sialkot on December 14, Manshera on December 21 and at the Qauid's mausoleum in Karachi on December 25.
Source: tribune.com.pk