Dr Firdous Ashiq Awan calls on Dr Tahir-ul-Qadri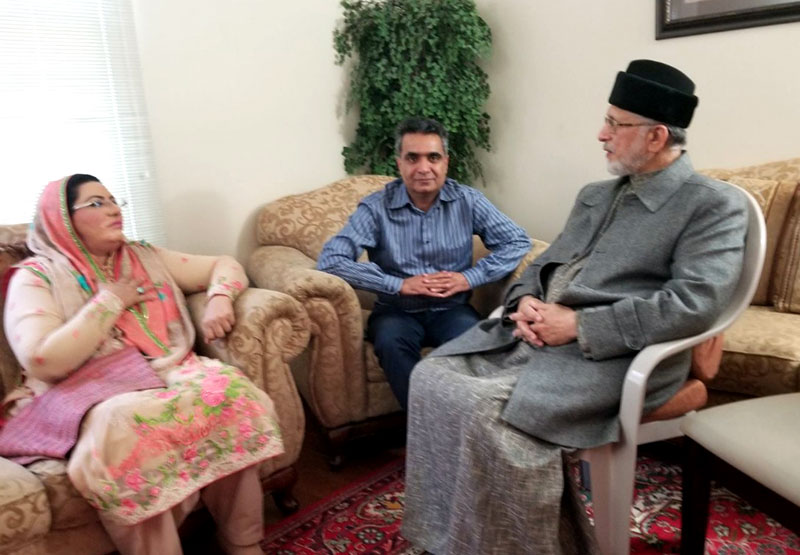 PAT Chairman Dr Muhammad Tahir-ul-Qadri has said that the time for the end of the Sharif dynasty has come near. He said that what to speak of getting power again, they will not be able to stay in politics anymore. He underlined the need of drastic reforms in every area of national life after the black period of exploitation and oppression comes to an end. He said that it is his desire that the political parties wage a joint struggle for the reform agenda and to get rid of terrorism, extremism and economic bankruptcy.
Dr Tahir-ul-Qadri expressed these views while talking to former Federal Minister and the senior PTI leader Dr Firdous Ashiq Awan, who called on him in Toronto yesterday. Dr Awan enquired after the health of the PAT Chairman and discussed matters pertaining to the political situation in the country.
Talking to Dr Firdous Ashiq Awan, Dr Tahir-ul-Qadri said that he wants the like-minded political parties to formulate a shared agenda against terrorism, militancy, economic challenges and corruption. They need to demonstrate unity of purpose in their ranks to put country back on track through sustainable reforms. He said that end of the black period of the political elite is a turning point but the reforms are inevitable to take the country forward. He said that such changes need to be brought about in the system that no one can dare subordinate the state machinery to their whims and caprices on the basis of their wealth.
Dr Qadri said that his medical tests were being taken since the last month or so which have been completed now. He said that he held medical sessions with his doctors, stating that he has instructed his travel agent to formulate his travel itinerary of Pakistan, and he would be back to the country this month.
Speaking on the occasion, Dr Firdous Ashiq said that the struggle of Dr Tahir-ul-Qadri and his workers cannot be ignored in exposing the political elite and their antics. She said that it is the result of perseverance and patience with which Dr Qadri fought the legal battle for justice that Model Town case continues to remain alive and heading towards its logical end.