Nawaz Sharif has become an approver of India: Dr Tahir-ul-Qadri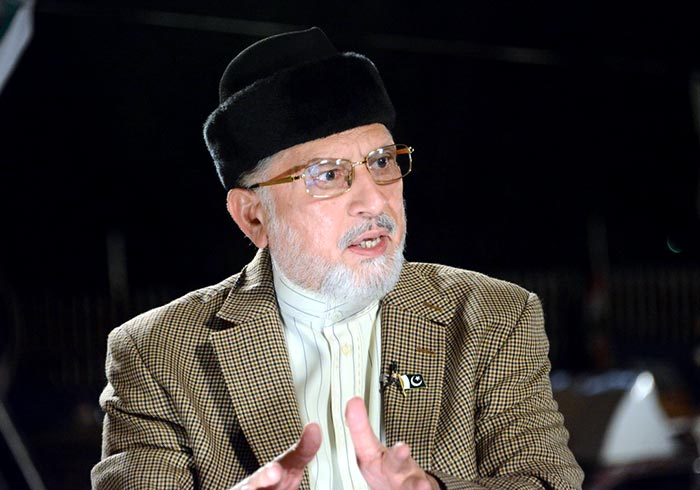 PAT Chairman Dr Muhammad Tahir-ul-Qadri has said that following his grave allegation of sending terrorists into India, the nation demands of Nawaz Sharif to present his clarification within 24 hours in the light of the media report or the people will be justified in believing that the disqualified former premier has become an approver for India. He said that the allegation made by someone who remained the PM three times cannot be ignored, stating that it should be thoroughly probed as it constitutes a declaration of war against the state of Pakistan and projects the Indian narrative.
Dr Tahir-ul-Qadri said that we have stated it before that Indian PM Modi's visit to a private ceremony of the Sharifs in Jati Umra, Jindal's one-on-one meeting with the ousted premier without any prior notice, non-utterance of even a single word against the Indian spy who was working on the anti-Pakistan agenda and occurrence of the maximum number of violations of LoC was not without justification. He said that after the leveling of the grave allegation of sending terrorists into India, the incompetent lot is a security risk for the country.
The PAT Chairman said that he also informed of the presence of the Indian technicians in the sugar mills owned by the Sharifs. He said that he even shared their names and passport numbers with the media but soon after, the mill caught fire. He demanded the constitution of a high-powered commission to ascertain the truth in the allegations made by the disqualified prime minister. He said that the accusation of sending terrorists into India is an act of treason against the sacrifices of 70,000 people. He said that even if there is an iota of truth in this, why did NS remain silent for four years when he was the PM?