Elections 2018: Dr Tahir-ul-Qari's policy statement for the party workers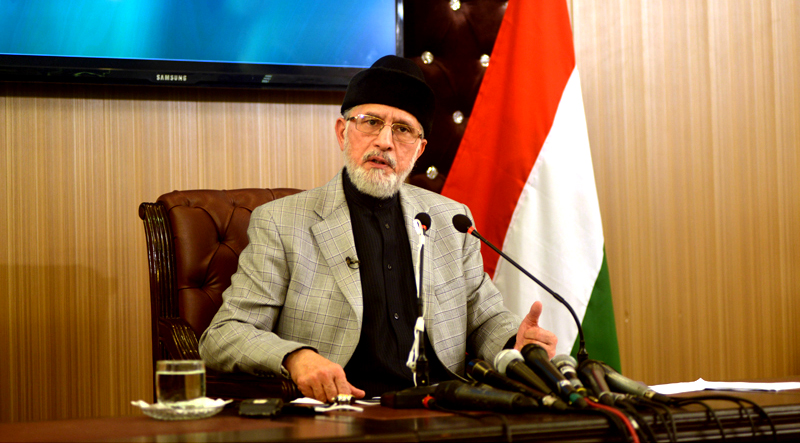 PAT Chairman Dr Muhammad Tahir-ul-Qadri has said that we decided to stay out of the electoral process as a party because we do not expect any good to come out for the country from the present system. He said that any number of elections can be held under the current rigged system, but our economic, and political crises will increase. He said that the system is founded on the pillars of rigging, corruption and exploitation. He said that the parties with anti-Pakistan agenda will get a chance to play out openly under the current system. National security will get attacked and the people will be further divided along different factions.
Dr Tahir-ul-Qadri further stated that if any member or office holder of MQI or PAT or any of the subordinate members tried to extend cooperation to the ticketholders of the killer party directly or indirectly, strict action will be taken. He said that it is a final policy matter and no explanation of any kind will be accepted. He said that the Sharifs shed the blood of innocent people in Model Town and took vindictive action against an organization that has been spreading the light of knowledge and peace in the world. They also made an attempt to change the law that deals with the belief regarding finality of the prophethood in order to please their patrons for the sake of vested interests. They looted the exchequer and committed the worst exploitation of the country. They are a party that ran a defamation campaign against the national security institutions.
Dr Qadri said that the list of the crimes committed by the Sharifs is very long. He said that the faces of the martyred sons and daughters are present in front of his eyes. He said that it is not just political differences but enmity with the Sharif brothers. He said that no worker should try to extend any support to them in any manner. He said that our struggle will continue till we get justice in the form of Qisas.