PTI leader Ijaz Chadurhy calls on Khurram Nawaz Gandapur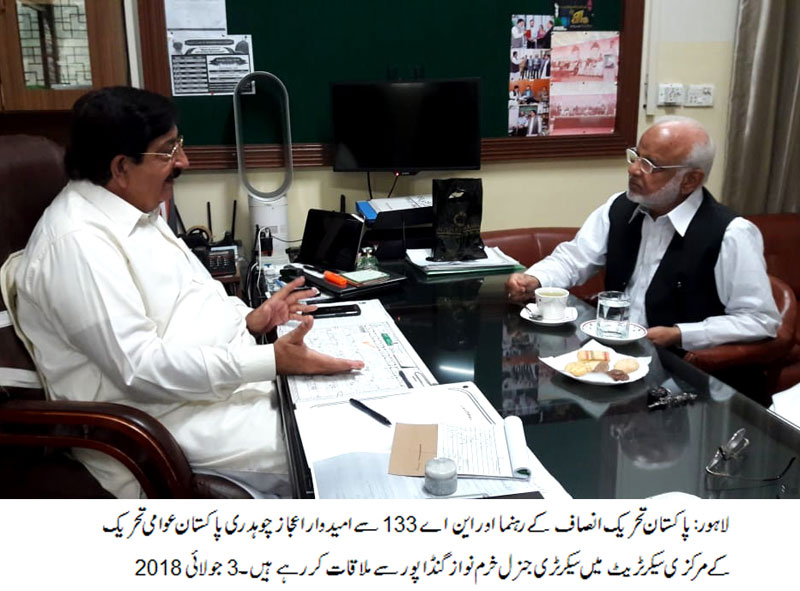 Central leader of PTI and candidate for NA 133 Ijaz Chaudhry visited the central secretariat of PAT and called on Khurram Nawaz Gandapur. Both leaders discussed matters of mutual interest including the prevailing political situation in the country.
Speaking on the occasion, Ijaz Chaudhry said that those who tinkered with the law regarding the finality of the prophethood and indulged in shedding blood of innocent people are near their end. He said that the PML-N candidates are hiding their faces from the electorate because they have no answers to the questions about corruption of their leaders.
Khurram Nawaz Gandapur said on the occasion that the Sharif family will get severe punishment for their role in Model Town massacre and attempt to change the law about the finality of prophethood. He said that the process that started off with public humiliation will culminate in their getting punished and going behind the bars.
The PAT Secretary General said that one raid drowned Lahore and exposed the tall governance claims of the former ruler. He said that Shahbaz Sharif spent public funds on decoration of roads but did not fix the sewerage system.