MMA delegation calls on PAT Secretary General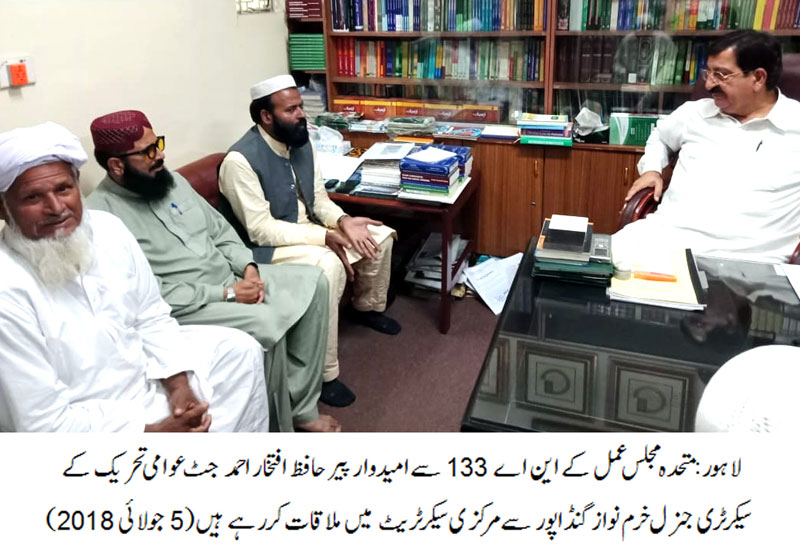 Pir Hafiz Iftikhar Ahmad Jutt, MMA candidate for NA 133, called on PAT Secretary General Khurram Nawaz Gandapur along with a delegation. Chaudhry Afzal Jutt, Ch. Ghulam Hussain, Aneeb-ur-Rehman, and Qari Imran were also present on the occasion.
Hafiz Iftikhar Ahmad Jutt, while speaking on the occasion, said that no sane person can forget the brutality committed on innocent people in Model Town. He said that we always condemned the oppression and demand that those involved in this tragedy should be apprehended and meted out strict punishment. He said that we are appreciative of the efforts Dr Tahir-ul-Qadri is making to project a peaceful image of Islam in the world today. He said that every patriotic citizen of the country believes that as long as this system is in place, oppression will continue to take place.
Speaking on the occasion, Khurram Nawaz Gandapur said that there is no doubt about the fact that Model Town is one of the greatest tragedies in our national history and what is even worse is that those found involved in this massacre have not been meted out punishment. He said that we are of the considered view that it is not possible for educated middle class to get into the assemblies under the present system and it is for this reason that the Chairman PAT has decided to stay out of the elections. He said that though we are not contesting the elections but will continue our struggle against the corrupt.