Book reading vital for moral, spiritual & civilizational growth of a society: MYL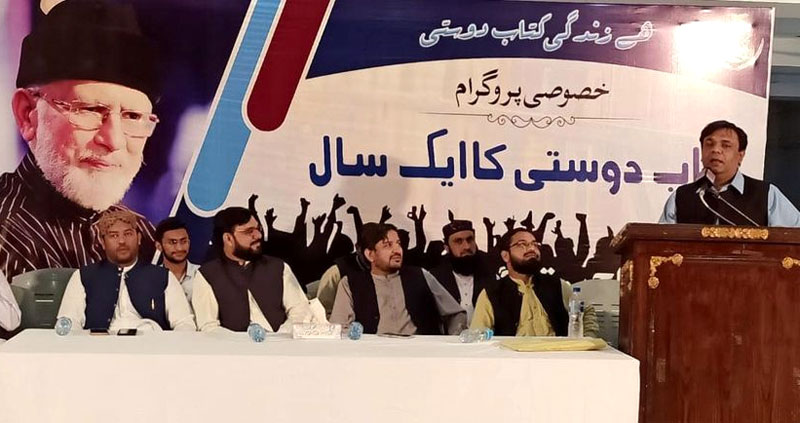 A ceremony under the title of 'Friendship with the book' was held under the banner of the Literary Council of Minhaj Youth League, which was presided over central MYL President Mazhar Mahmood Alvi. Renowned scholars, intellectuals, political and religious personalities including Sahibzada Kashif Mahmood, son of famous spiritual personality Hazrat Wasif Ali Wasif, Prof Dr Muhammad Iftikhar Khan, Ain-ul-Haq Baghdadi, Hafiz Saeed Raza Baghdadi, Prof Muhammad Ahmad Tahir, and Prof Fayyaz Ahmad Salfi attended the ceremony.
The speakers congratulated MYL on the completion of one year of 'Friendship with the book' campaign and emphasized that the culture of this bond needs to be developed. They said the books are the source of national, social, moral, and spiritual development.
Announcing the curriculum for the next five years, Muhammad Inam Mustafavi, the head of the Literary Council, said that the youth will be given four books to read every month. Addressing the ceremony, Mazhar Mahmood Alvi said that the friendliness with books is the sign of civilized nations. He said the book reading helps us to explore the reality of life and pass its secret on to other people. He said the whole process of evolution of civilization is connected with the books. He said books not only preserve knowledge but also transmit it to the succeeding generations. He said we evolve, get better, and become civilized by reading books.

Sahibzada Kashif Mahmood, the son of Hazrat Wasif Ali Wasif, said on the occasion that the youths are the identity and power of Pakistan and Islam. He said we would have to work hard on character building and education of the youth to make the country prosperous. He said MYL is playing its due role in the youth empowerment. He said the decline of book reading is one of our great civilizational tragedies. He said the habit of book reading is the sign of a thriving civilization.
Ain-ul-Haq Baghdadi said that only those individuals and societies reach the pinnacle of life that have had a strong and unwavering bond with book reading and knowledge. He said only book friendly nations and people are considered civilized in the history of mankind.
Hafiz Saeed Raza Baghdadi, Director of Directorate of Training (Courses department), said on the occasion that simple formula to judge any nation's progress and superiority is to look at the relationship its people have with knowledge and books. He said it is the yardstick to not only determine its present but also the past and the future of such a nation.
MYL Secretary General Mansoor Qasim Awan, Mohsin Mustafavi, Mohsin Mushtaq, and others also spoke on the occasion.