Development conditional on effective local bodies institutions: Khurram Nawaz Gandapur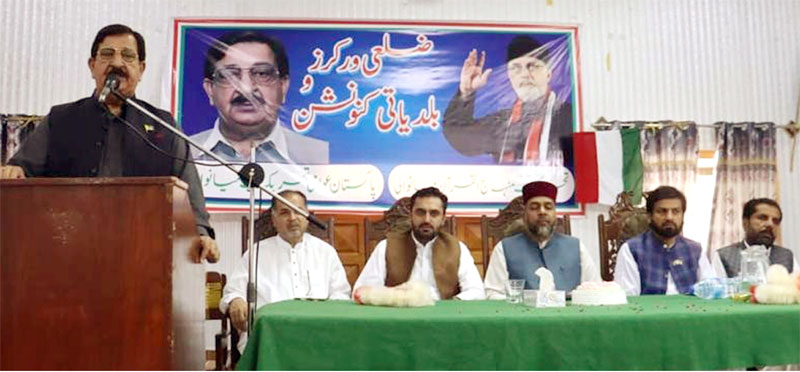 PAT Secretary General Khurram Nawaz Gandapur has said that the reorganization of the party and the preparations for the upcoming local bodies polls are underway in all the districts of the country. He said that the proud and courageous workers are our assets and with their strength, the party has become more organized and stronger than before. He said there is a need for practical action instead of rhetoric to deliver progress at the grass-roots. He said that empowered local bodies institutions can help resolve the problems of the common man.
Khurram Nawaz Gandapur made these remarks while addressing a local bodies convention in Mianwali. A large number of workers and probable candidates including vice president PAT Raja Zahid Mahmood, president PAT North Qazi Shafique, General Secretary North Sardar Sabir Khan, Allama Rana Muhammad Idrees, Toquir Awan, Malik Tahir Javed, Mohsin Mustafavi, Malik Ataullah attended the convention.
Khurram Nawaz Gandapur said that it is unfortunate that no attention was paid in the last seven decades to strengthen the local government institutions. He said we have failed to understand the centrality of the local bodies institutions. He said PAT considers the service to people the pivot of its politics, stating that the party would actively take part in the local bodies polls in the country.
PAT Secretary General said the merciless accountability of a plunderer and a looter neither possible under the current system nor people can get their due rights. He said it appears that the present government is unable to play any meaningful role to improve the system in the interest of the masses.
Raja Zahid Mahmood said on the occasion that PAT's struggle is meant to give a prosperous Pakistan to the succeeding generation. He said a powerful local government system is a must to empower citizens and make them stakeholders in the national affairs.
Qazi Shafique said that the conduct of the local bodies elections is the source of political education for the people as well as the workers. He said that local development issues have not been resolved in absence of the strong local institutions. He said that unless powers are not delivered to the grassroots, the people's standard of living will not improve.
Allama Rana Muhammad Idrees, Sardar Sabir Khan, Toquir Awan, Malik Tahir Javed and Mohsin Mustafavi also addressed the convention.