Annual International Spiritual Conference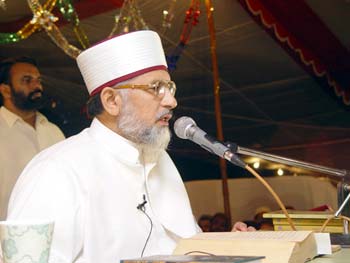 The Annual International Spiritual Conference on the 27th of Ramadhan at the Itikaf city took place on Wednesday. There were phenomenal amounts of people attending it which were at minimum twice the number that attended last year; this was in addition to those who were sitting the itikaf.
Dr. Raheeq Ahmad Abbasi, Nazim Ala MQI, spoke both in English and Urdu on the aims of Minhaj-ul-Quran International and its work.
The lecture of Shaykh-ul-Islam Prof. Dr. Muhammad Tahir-ul-Qadri followed which was a very powerful and spiritually igniting lecture which had the tears flowing.
The event was shown live on a local TV channel and on the internet as well as being aired live on Ramadhan Radio in Nelson, Walsal, Birmingham and Dundee in the UK.