The Man Behind Pakistan's Democracy March
By Daud Khattak and Charles Recknagel
January 09, 2013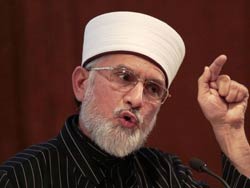 Muhammad Tahir-ul-Qadri is best known internationally for an antiterrorism fatwa he issued in 2010.
The influential Islamic scholar declared in his 600-page religious ruling that no Muslim has the right to shed the blood of civilians in the name of religion.
Now Qadri is becoming known both inside and outside Pakistan for something else. He has promised to bring millions of supporters to the streets for a march on Islamabad on January 14.
This time his message is not religious but political. "If you want change," he told supporters in Lahore on December 23, "I am also here to bring the change."
The change Qadri demands is a total overhaul of the government ahead of the country's parliamentary elections, due to take place after parliament ends its current term in March. A precise election date has not yet been set.
Qadri -- who is a law professor and founder of a worldwide organization that promotes education in the Islamic sciences -- wants Pakistan's ruling coalition to step down in favor of a caretaker administration that would be acceptable to all of the country's political parties, its judiciary, and its military. And he has called for a caretaker administration to take the government's place and carry out election reforms he says are needed to ensure the upcoming vote will be honest.
Source : http://www.rferl.org/content/pakistan-democracy-march-tahir-ul-qadri-elections/24819454.html