Pakistani cleric testing his political voice with massive march
By Alex Rodriguez, Los Angeles Times
January 11, 2013, 3:08 p.m.
Tahirul Qadri, who seeks electoral reforms, hopes a million people will gather in Islamabad on Monday. Some analysts wonder whether the military is behind his message.
ISLAMABAD, Pakistan — The "Arab Spring" seems a long way from Pakistan's winter of discontent.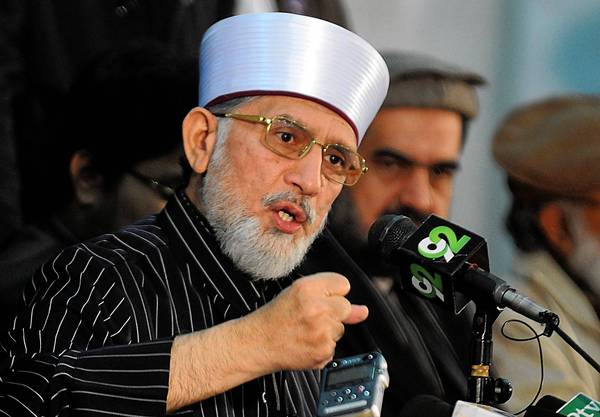 Still, when religious scholar Tahirul Qadri talks about his hopes for the massive rally he is planning in Islamabad on Monday, one that he hopes will lure more than a million people into the streets of the quiet capital, the image he uses is that of Cairo's Tahrir Square.
Government leaders have tried to warn the gray-bearded mullah, respected by many for his denunciations of the Taliban and his espousal of tolerance, that a gathering on the scale he is planning would give militants the opportunity to carry out a major terrorist act. Pakistanis haven't forgotten that it was at a large rally in Islamabad's twin city, Rawalpindi, that former Prime Minister Benazir Bhutto was assassinated by a suicide bomber in 2007.
But Qadri has refused to back down.
Already, police have begun bracing the city for the event. Freight containers and barbed wire are being positioned to block avenues leading to the capital's "red zone," which embraces the parliament, President Asif Ali Zardari's residence, the Supreme Court and other major government buildings. Anyone trying to enter the capital will have to show identification. As many as 10,000 police and security personnel will be deployed to maintain order.
In what is being billed as the "Long March," Qadri and the rally participants plan to leave the eastern city of Lahore on Sunday and are expected in Islamabad on Monday.
The last thing that Pakistan's government wants is a South Asian version of the events that played out in Cairo's Tahrir Square, epicenter of Egypt's 2011 revolution that ousted President Hosni Mubarak. Pakistan may be saddled with a host of ills, including suicide bombings, crippling power outages and a tattered economy, but it differs from Mubarak's Egypt in that it is a democracy with vibrant, free media and a competitive political landscape.
And, in fact, although he mentions Egypt as an inspiration, Qadri's stated goal is far more modest: He is demanding electoral reforms he says will weed out corruption and sweep away the politicians who have allowed terrorism and rampant poverty to flourish.
But in the highly charged atmosphere of Pakistani politics, not everyone takes what Qadri says at face value.
"This whole charade of a million-people march and a sit-in like Tahrir Square speaks of a larger effort at work," said Raza Rumi, a leading political analyst with the Jinnah Institute, an Islamabad-based think tank. "It could be personal adventurism, or it could involve tacit military support. It's difficult to say whether the military is involved, but definitely his agenda suits the military and its historical control over power."
Qadri is demanding changes that would prevent corrupt politicians and tax cheats from seeking office. He also wants revisions to a law that requires a caretaker government to be put in place in the weeks before national elections — scheduled for spring — a long-standing measure aimed at ensuring unbiased management of the election and vote-counting. Under current law, the party in power, Zardari's Pakistan People's Party, together with the main opposition party, former Prime Minister Nawaz Sharif's PML-N, would jointly appoint the caretaker government.
Qadri argues that the authority to appoint the caretaker administration should be widened to include nonpolitical institutions such as the military. That has led to the speculation that Pakistan's security establishment may be orchestrating and perhaps financing Qadri's plans.
Military officials deny any link to Qadri. And the cleric insists he isn't hewing to anyone's agenda but his own. He said he had not sought financial assistance from other political parties or the military, adding that he donated his wife's and daughters' gold jewelry to the cause of the march to help pay for logistics. Donations from legions of supporters are paying the rest of the bill, he said.
"I have not been provided any money from any agency," Qadri told reporters this week in Lahore, an apparent reference to Pakistan's intelligence community. "It's God and 180 million Pakistanis who are with me."
Logistics for a rally the size Qadri envisions are likely to be expensive. Qadri spokesman Shahid Mursaleen said march organizers were hiring as many as 40,000 buses to carry demonstrators the 200 or so miles from Lahore, along with an army of food vendors who will keep participants fed.
Qadri's sudden appearance on the political scene has come as a surprise to most Pakistanis. Now 61, he moved to Canada in 2006 after announcing that he had become disillusioned with Pakistan's politics. In the 2002 elections, his Awami Tehrik party had been able to garner only a single parliament seat.
Living in Toronto, Qadri became an outspoken critic of the Taliban and Al Qaeda, writing a 600-page fatwa, or religious ruling, condemning terrorism and the tactic of suicide bombings.
When Punjab Gov. Salman Taseer was assassinated in 2011 by one of his bodyguards for his criticism of Pakistan's blasphemy law, Qadri lashed out at Pakistani clerics and conservatives who regarded Taseer's assassin as a hero, and spoke against the country's use of the controversial law as a means to exploit and punish minorities.
He reappeared in Pakistan in mid-December. His mission gained momentum Dec. 23, when thousands of Pakistanis amassed in Lahore to hear him speak.
"We reject politics where the country is not truly independent, and where terrorism is not eliminated, where Karachi has been turned into a war zone," Qadri told the crowd at the rally. "We do not accept politics where nothing is done to alleviate poverty, where there is kidnapping, where millions have no water, gas and electricity."
So far, he has said he has no intention of running for office. To do so, Qadri, who holds dual Pakistani and Canadian citizenship, would have to relinquish the latter. Nevertheless, if Monday's march proves successful, it could make him a formidable political force just as the nation prepares to elect its next government.
Qadri has already won an important ally: The Muttahida Qaumi Movement, the party that controls governance in Karachi, Pakistan's largest city and its commercial capital, is backing the rally, though party leaders said Friday that they would not take part in the march because of the security risk.
Speaking to reporters Friday in Lahore, Qadri defiantly brushed aside the potential for an act of terrorism.
"I am not worried about bomb blasts or bullets," he said. "We will march no matter what, and the people will follow me.... Even if they put in front of me the resources of 100 governments, I won't take a step backward."
alex.rodriguez@latimes.com
Special correspondent Umar Farooq in Lahore contributed to this report.
Source : http://www.latimes.com/news/nationworld/world/la-fg-pakistan-march-20130112,0,492206.story