Qadri's rally: Capital's entry, exit points sealed
By Umer NangianaPublished: January 13, 2013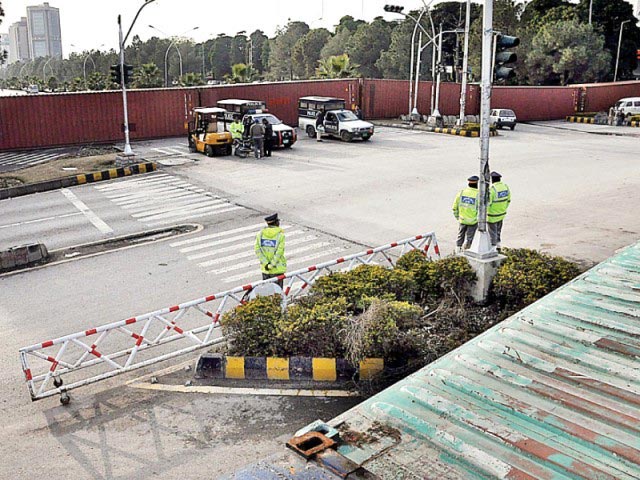 ISLAMABAD: The police started locking down the federal capital in anticipation of a "million-man march" that influential scholar Dr Tahirul Qadri is scheduled to lead to Islamabad on January 14.
The police put containers on the city's entrances and around the red zone to deny motorists access to the areas.
"If people try to move these containers, they can easily do so," a police officer said, adding that the government had not told the police, as yet, whether they ought to stop the marchers by force, or that they should provide them security.
Activists of the Islamabad chapter of Minhajul-Quran International (MQI), on the other hand, said they would maintain peace until the authorities use force.
"We have to get to the Constitution Avenue at all costs. This is not a handful of people; it is a march of millions. Containers cannot stop us," an MQI official told The Express Tribune.
The red zone, which houses all key government buildings, including the diplomatic enclave, has been blocked at all entry points by a wall of containers around it.
Roads leading to Constitution Avenue and Parade Avenue are also blocked in a similar fashion. City entrances from Faizabad, Rawal Chowk, IJP road, Kashmir Highway and other directions were also blocked, where Islamabad Traffic Police (ITP) officials are partially allowing traffic to enter the city.
"Security cameras are installed from the red zone to Faizabad Chowk and a monitoring room is set up at Pakistan Telecommunication Authority's (PTA) office," a police official said.
MQI Islamabad president booked
Margalla police booked MQI local chapter President Advocate Abrar Raza for violating Section 144 of Pakistan Penal Code by erecting camps at G-9 Markaz, which were removed by the police.
Earlier, Abrar won a court battle against the city administration and the police, where a sessions judge directed authorities to abstain from "harassing" the MQI officials.
Local participants arrive
People from adjoining areas of Islamabad and Khyber-Pakhtunkhwa (K-P) started arriving in the federal capital on Saturday. As per their plan, these participants will join Dr Qadri's long march at D-Chowk Parade Avenue on Monday.
Published in The Express Tribune, January 13th, 2013.
Source : http://tribune.com.pk/story/493266/qadris-rally-capitals-entry-exit-points-sealed/