Qadri kicks off long march from Model Town
Last Updated On 13 January,2013 About 1 hour ago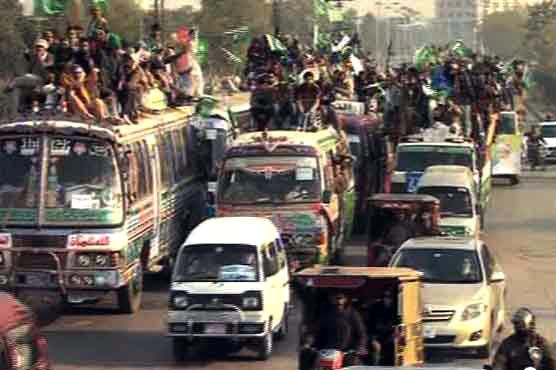 LAHORE: The Tehreek-e-Minhajul Quran (TMQ) long march has begun from Model Town in Lahore, Dunya News reported on Sunday.
Talking to media before leaving for march, TMQ chief said that the administration had impounded a large number of vehicles hired by his party for marchers. Long-march would be staged for the rule of law and the Constitution, he added.
A large number of people, including women started gathering at Tehreek-Minhajul Quran Markaz in Lahore as they prepared for long-march on Islamabad.
Preparations continued through night as activists of the TMQ were seen placing banners and loud speakers on trucks buses and other vehicles they hired for traveling.
On the other hand, Islamabad has been converted into a military cantonment in the backdrop of Dr Tahirul Qadri s long-march which he announced to stage to get government's assurance for electoral reforms.
Source : http://dunyanews.tv/index.php/en/Pakistan/153894-Qadri-kicks-off-long-march-from-Model-Town-