Qadri leads tens of thousands towards Islamabad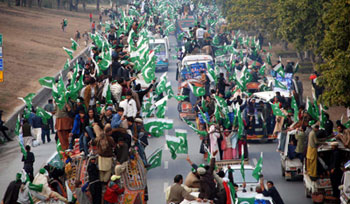 SOHAWA: Tens of Thousands of protesters streamed towards Islamabad on Monday, led by Tehreek-e-Minhaj-ul-Quran leader Dr Tahirul Qadri calling for revolution but accused of trying to sow political chaos ahead of elections.
Tahir-ul Qadri accuses the government of being corrupt and incompetent, and says polls cannot be held until key reforms are enacted.
In the town of Jhelum, senior police official Mohammed Anwar estimated the size of the crowd at around 50,000 people travelling in 350 vehicles, alongside a heavy police presence.
Witnesses said there were tens of thousands, carrying the green and white national flags of Pakistan and the flags of Qadri's religious and educational organisation.
Men, women and children piled onto rooftops of buses, flashing victory signs in a five-kilometre convoy of vehicles, an AFP reporter said.
Anthems blasted out of loudspeakers as protesters danced to drumbeats and local residents showered the passing convoy with rose petals.
"We will stay in Islamabad until this government is finished, all the assemblies are dissolved, all corrupt people are totally ousted, a just constitution is imposed, rule of law is enforced, and true and real democracy is enforced," Qadri told AFP on Monday.
He said he had food to last for a month and blankets, so he was undeterred about camping out in the street in the night-time cold of an Islamabad winter.
Source : http://www.brecorder.com/top-news/1-front-top-news/100946-qadri-leads-tens-of-thousands-towards-islamabad.html