Tahirul Qadri's party may take part in elections
By Reuters
Published: January 18, 2013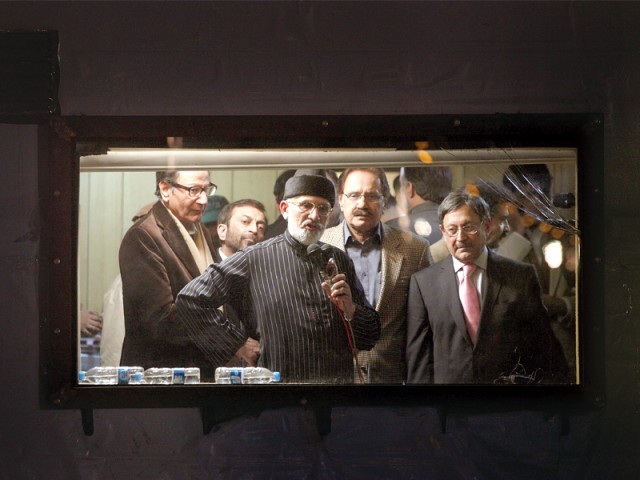 ISLAMABAD, Pakistan — Muhammad Tahir-ul Qadri, the preacher turned political activist who led thousands of his supporters to occupy the heart of the Pakistani capital, ended his protest on Thursday night after the government granted his party largely symbolic input into the country's electoral process.
Mr. Qadri failed to achieve his headline aims, like the immediate dissolution of President Asif Ali Zardari's government and the installation of a temporary administration led by technocrats — demands that, together with a striking military silence about his movement, had stoked fears of army interference in politics.
Although he electrified the news media and embarrassed the government by closing down the center of the capital for four days, his promises of a "million-man march" did not materialize, and the much smaller group that followed him was drenched by bitter rains that lashed the capital on Thursday.
But the 61-year-old preacher, who mixed eloquent rhetoric with fist-waving ultimatums, did achieve some concessions, particularly for the leader of an obscure party that does not hold a single seat in Parliament. And even as his supporters began dispersing, it was clear that he had carved out an unusually prominent role for a political outsider.
After five hours of talks with representatives of the coalition government, held inside the bulletproof enclosure he inhabited on Islamabad's main avenue, Mr. Qadri read out a five-point agreement about his party's role in the elections.
It provided that Mr. Qadri's Awami Tehreek party would have limited say in the choice of a caretaker prime minister during the election campaign period, and the law minister would consult with Mr. Qadri on the composition of the election commission that oversees voting.
Addressing his supporters, Mr. Qadri claimed victory and described the three-day protest as a "golden chapter in the history of Pakistan."
But beyond platitudes about weeding out corrupt politicians, the deal accorded Mr. Qadri few solid rights, and some analysts saw it as a way of allowing him to withdraw quietly from Islamabad.
"It is a capitulation in a sense that it is an unconstitutional document," said Salman Akram Raja, a leading constitutional lawyer. "But in practice, it will have no effect. It is just a face saver that allows Tahir-ul Qadri to leave Islamabad."
Notably, the final point of the deal behooves the government to avoid all "acts of victimization and vendetta" against Mr. Qadri and his supporters — a pointed reminder of the culture of revenge in Pakistani politics.
After the deal was signed, Mr. Qadri hugged and held hands with Qamar Zaman Kaira, the information minister, who had mocked the preacher at a news conference just a day earlier. Mr. Kaira expressed regret for his sharp-tongued attacks and offered his congratulations. "Today, it is your victory, it is my victory," he said. "Your peaceful protest is unparalleled."
Perhaps the greatest achievement of the deal, however, had not been written down: a major street movement had been peacefully defused without loss of life. Warnings from Interior Minister Rehman Malik that suicide bombers could target the rally failed to materialize.
Afterward, Mr. Qadri's supporters, most of them drawn from small towns and cities across Punjab Province, sang, beat drums and danced in the streets of Islamabad. "Our dream came true tonight," said Sabir Hussain, who said he came in a convoy of 250 vehicles from Chakwal. "We achieved what we came for here."
Within a few hours, they started to pack their luggage and return home, undoubtedly happy to avoid another night's sleep on damp sidewalks with limited water, food and sanitary facilities. Some helped to collect trash and sweep the streets. "Thank God the government finally met our sacrifices," said Muhammad Shafique, a Kashmir resident who said he had a headache all day.
Mr. Zardari's government was also battling on another front on Thursday, when its lawyers opposed a Supreme Court order for the arrest of Prime Minister Raja Pervez Ashraf.
On Tuesday, Chief Justice Iftikhar Muhammad Chaudhry ordered the arrest of Mr. Ashraf and 15 other current and former officials as part of a year-old corruption prosecution relating to Mr. Ashraf's tenure as minister for water and power between 2008 and 2011. Government officials accused Chief Justice Chaudhry of taking advantage of the chaotic situation to press his longstanding rivalry with the government.
Officials from the National Accountability Bureau, the government's main antigraft body, told the court on Thursday that the investigation into Mr. Ashraf's case had been "hurried," and pleaded for more time to complete their work.
Chief Justice Chaudhry remonstrated with the corruption body's prosecutors, clearly angry that his order had being defied. He accused the head of the agency, Fasih Bokhari, of being timid with Mr. Ashraf, and accused the officials of behaving like defense counsel for the government.
Such hearings have become part of a wider battle between Chief Justice Chaudhry and Mr. Zardari that has played out, largely through proxies, over the past year. In June the court forced the previous prime minister, Yousaf Raza Gilani, to resign in relation to another corruption case. The case was postponed until Jan. 23.
Source : http://tribune.com.pk/story/495748/tahirul-qadris-party-may-take-part-in-elections/