PTI makes first post-election contact with PAT, vows to work together for change
The present electoral system is an enemy of democracy and a major hurdle in the way of change. Electoral reforms have become inevitable. We accept that Dr Muhammad Tahir-ul-Qadri launched justified struggle in the right direction against the elitist electoral system. Both Pakistan Awami Tehreek and Pakistan Tehreek-i-Insaf have the shared goal of bringing about a change in the country. Therefor working relationship between both parties will be further strengthened and the process of interaction and meetings between their leaderships will continue. We invite PAT leadership to visit PTI's secretariat.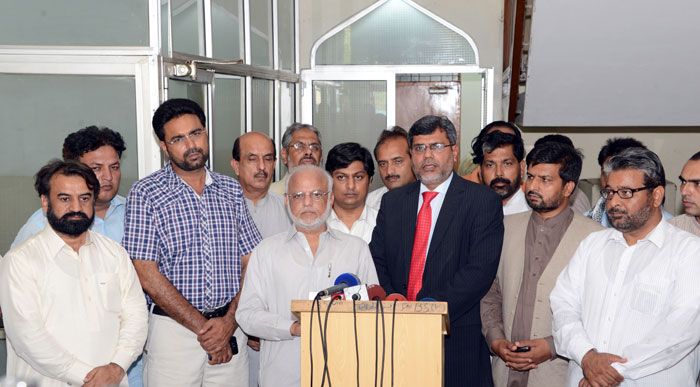 These views were expressed by Muhammad Ijaz Chaudhry, President of PTI Punjab, during his meeting with President of PAT Punjab Bashrat Aziz Jaspal in PAT's central secretariat in Lahore today. Aqil Malik, Sajid Mahmood Bhatti, Muhammad Hanif Mustafvi, Mian Zahid Javed and Abdul Qadir represented PAT, while Noor Muhammad, Rana Muhammad Nadeem and Hammad Niazi represented PTI in the meeting.
The leaderships of both parties agreed that there was no match between democracy and the incumbent electoral system. The dream of real democracy cannot be fulfilled without electoral reforms. Both parties found themselves on the same page with respect to local bodies system. There was a complete consensus on the fact that powers should be devolved to the grass-roots in the real sense and the role of members of Parliament should be confined to law-making as per the Constitution by doing away with culture of development funds so that effective and prompt law-making should be carried out in greater public good.
Answering questions of journalists after the meeting, Bashrat Aziz Jaspal, President of PAT Punjab, said that people's right to life was being curtailed instead of giving them relief. To top it all, load-shedding had made people's life into a living hell. He said that these crises owed themselves to exploitative electoral system, which thrived at the cost of the poor. He said that the people should know that they could not get their due rights without sending this system packing. He said that PAT would present a practicable model of district government before the local bodies' elections.
PTI Punjab President Muhammad Ijaz Chaudhry said that it was high time that political parties that advocated change found a common cause to work for by rising above their differences. He said that all forces of change would have to get together in future, adding in the same breath that change could not be possible without joint course of action. He said that instead of repeating the mistakes committed by the respective parties, it was high time they launched a joint struggle against the incumbent system. He said that his party would also present a practicable model of local bodies' system in a period of three months. He said that the same system would be implemented in KPK and then pressure would be exerted on the Punjab government to replicate the same.