Tent Villages of 600 MWF Tents Finalized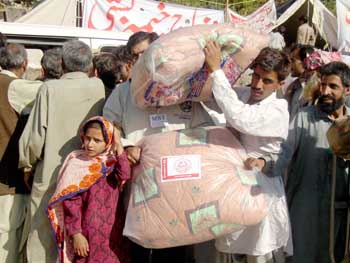 Minhaj Welfare Foundation have today finalized 2 locations for the establishment of 2 large tent villages. A tent village of 200 tents will be set up in Bagh. The Govt have approved the area for MWF. The tents will be provided by MWF and electricity and water supply will be provided by the Govt of Pakistan. The other Minhaj Tent village will be established in Meran Tanolian near Muzafarabad. MWF will also establish a tent school and tent mosque for the settlers in these Minhaj Tent Villages.
Constant food and medical facilities will also be provided to the residents in these Minhaj Tent Villages.
More than 100 tents were distributed today to different people who are approaching the camps of MWF. 500 food packs were also distributed to the families in Kashmir.
The members of ATIB Turkish charity organization in Germany reached Rawalpindi today and will move tomorrow for Balakot and Mansehra. ATIB is working with MWF for the distribution of relief aid from the Turkish community in Germany.