Minhaj-ul-Qur`an Women League/Youth League, Paris, France: - Monthly Report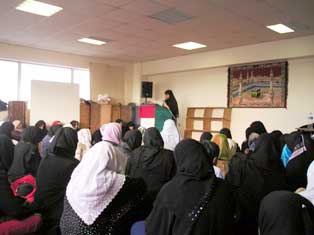 On the 13th of March the Minhaj-ul-Qur`an Women League and Sisters League, France had the honour of presenting their monthly programme to the Muslim community living in France.  Alhumdulilah not only Pakistani sisters, but many Mauritian sisters attended these programmes to enlighten their hearts with the remembrance of Allah Subhana wa Ta`ala and His Beloved Prophet (Peace be upon him).
The two sisters presenting the programme were Mrs Shamim Zahoor and Sabba Qazi.
They first welcomed the audience for leaving their houses and all their worldly affairs to gather in His remembrance.  The Mehfil started with the recitation of the Holy Quran by  Hafiza Nafeesa Arshad (who Mash`Allah learnt the whole Qur`an by heart in the Minhaj educational centre, Gujrat).
Then, sister Iram Humayun glorified Allah Subhana wa Ta`ala saying His beauty is hidden behind many hijabs (veils).
Following this, a series of praises to the Holy Prophet (SAW) started, beginning with our little sisters, students of Minhaj Educational Centre Paris who read the famous Qasida Burda Shreef by Imam Buseeri.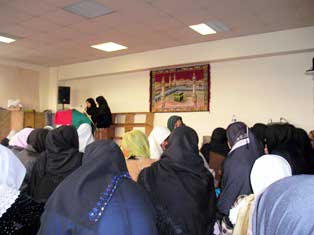 It is a great Blessing and Barakah of All Mighty Allah for the mothers whose daughters, living in Europe, are busy learning Nasheeds in an environment where everything is made to lead them astray from the right path. How lucky they are to have daughters motivated for their religion, and who instead of listening to and reading songs, are preparing little nasheed diaries beautifully decorated with Islamic pictures. Much of this credit, through the wasila of the Holy Prophet (SAW)  goes to our beloved leader, and spiritual Shaykh, Dr Muhammad Tahir ul Qadri who lead us on the right path and who infiltrated the love of Holy Prophet (Allah bless him) in our hearts.
Afterwards, sisters Sabba Arshad, Nafeesa Arshad, Rabia Khawaja, Iram Humayun, Sidra, (the sisters league nasheed group) and Mrs Mumtaz Malik, Mrs Musarate Mansha, and Mrs Sitara Malik (with their beautiful and melodious voices) read Nasheeds.
Finally, sister Nafeesa Arshad delivered a very instructive talk on the importance of the respect bestowed to mothers in Islam.  She told us that a mother is a gift from God, and is the second name for Paradise.  She added that a house without a mother is in an empty house.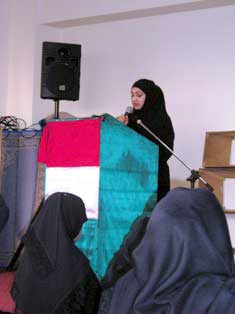 Then, she reported a Hadith of Holy Prophet Muhammad (Pease be upon him) which is as follows:
A Companion of Holy Prophet (SAW) named Alqama was near to death but was unable to recite the Shahada. His wife, worried, came to the Holy Prophet (SAW) and informed him about the problem. The Holy Prophet (SAW) asked if Alqama`s parents were still alive. She replied that his mother was.  Then Alqama`s mother came to the Holy Prophet (SAW) and told him she was angry with her son because he never listened to her and always gave preference to his wife over her.  The Holy Prophet (SAW) replied, if you forgive him, it will be better for him.  But she said she would not. Then the Holy Prophet (SAW) ordered Companions to bring wood and burn Alqama.  When she heard this, his mother, afraid, said are you going to burn my son? The Holy Prophet (SAW) replied, this punishment is better than the one he will get from Allah, if you do not forgive him then Allah will not accept his prayers and what he gave in charity.  When she heard this, Alqama`s mother forgave him.
The Holy Prophet sent the Companions to see if Alqama was now able to recite the Shahada. They said that yes, he read it before dying.
After this incident, the Holy Prophet (Peace be upon him) gathered the Companions and stated that if a mother is unhappy with her children, no good deed would be accepted from them.
Finally, sister Nafeesa draw the audience`s attention on to the fact that if your mother is angry, you can succeed neither in this world, nor in the Hereafter.
The event ended with the recitation of salutations on Holy Prophet (Allah give him peace) and prayer.
Reported by Zarina Mustafvi