Month of Rabi-ul-Awal Report From Minhaj-ul-Quran Youth Sisters: Glasgow, UK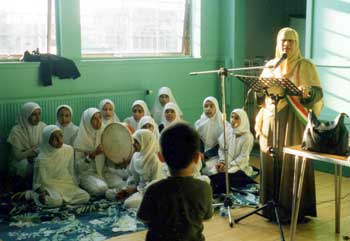 As always everyone awaits the blessed month of Rabi-ul-awal to come so that once again it can be known to everyone what this blessed month has brought to us, of course the biggest creation of all, our beloved Prophet Muhammad (saw).
The Mehfils of Milad-un-Nabi (SAW) in Glasgow started on 21st of April until 17th of May, Alhumdulillah altogether we had over 40 mehfil's where some of the days consisted of two mehfil's at different venues, one in the morning and one in the evening.
The normal pattern of our Mehfils began with recitation of the Holy Qur'an, by Sister Azhara as well as students of Minhaj-ul-Qur'an who are memorizing it at the moment. The mehfils then continued with Naats/Nasheeds which were recited by Sister Kalsoom, Sister Ruhi, Sister Yasmin, Sister Taiyyba and students of Minhaj-ul-Quran who recited the Naats with the duff.
After presenting the Naats, short speeches were delivered by Sister Tasneem Babar at each mehfil regarding various aspects such as; The physical appearance of The Holy Prophet (saw), Permissibility of Salat and Salam, Celebrating Milad-un-nabi (saw) in connection to Quran and Sunnah, various misconceptions regarding our Beloved Prophet (saw) were highlighted and clarified by reference to the Quran and Sunnah.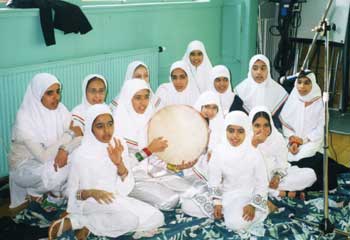 Alhumduliah our main Milad-un-Nabi (saw) programme took place on Sunday 24th of April at the local Multi-Cultural Centre. The blessed mehfil had a gathering of about 150 people and started off with recitation of the Holy Qur'an by sister Ismath Ahmad. To warm-up the mehfil the Glasgow Minhaj Naat Council sang many nasheeds of which the first was "Ya Rabbi" (Durood Sharif written by his eminence Dr Tahir-ul-Qadri) and to increase the enjoyment of this Durood sharif the duff was played alongside by sister Fouzia Ahmad. Following this Sister Fouzia delivered a speech on the "Love and honour for the Holy Prophet (saw)". Another member of the youth, sister Arooj Asad delivered an urdu speech on "The Seerah (life) of the Holy Prophet (saw). After mpre speeches from the youth, the older members recited more nasheeds.
Sister Taiyaba Tabassum then did a speech entitled "Significance of Nasheed" stressing that reciting a nasheed is the Sunnah of Allah (swt), since Allah Almighty sends salutations (salat and salam) upon the Holy Prophet (saw) and one of the meanings of salat in Arabic is to recite a na'at (nasheed). Thus one who recites a nasheed is indeed following the divine act of Allah Almighty. The final speech was presented by sister Tasneem Baber on "Noorai-Muhammad (saw) from creation to birth. The mehfil then near at an end, everyone stood up in respect to send Durood and Salam on the highest of creation, the Holy Prophet Muhammad (saw) and then dua was made. food was distributed.
All mehfil's ended with respectful Salutations sent upon our beloved Prophet Muhammad (saw) and following this dua's was made in which Durood Sharif or parts of the Holy Qur'an read were presented as gifts to the Holy Prophet (saw). To conclude the mehfils food was served to all participants.
It's a great blessing of Almighty Allah and His beloved (saw) to say that each year in Glasgow there is always an increase in the number of Mehfils and we pray Insh'Allah this process of Milad-un-Nabi (saw) will continue for the coming years.
Muslim Youth League, Glasgow.