Muharram-ul-Haram Glasgow Programme 2006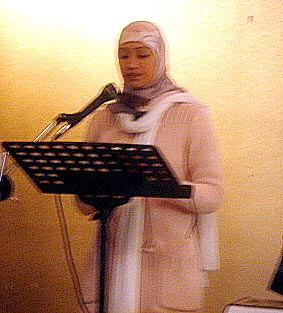 Hosted by: Ambreen Shabir (ICIS graduate), Tilawat-e-Quran: Tasmia Younas (ICIS graduate), Manqabat/Nasheeds: Glasgow Minhaj Youth Nasheed Council, English Speeches: Taiyyba Tabassum Minhaj University Graduate), Sweba Majid (ICIS Graduate), Urdu Speech: Tasneem Babar
It is by the Grace of Allah Almighty and the blessings of His Beloved Prophet Muhammad (saw) that we had the opportunity to organise a programme for Muharram-ul-Haram on Saturday 18th of February 2006 in which, over 200 females both young and old attended. The mehfil started off with Sister Tasmia reciting Tilawat-e-Quran followed by Glasgow's Minhaj Youth Nasheed Council reciting some Manqabats to capture the bravery and victory of Iman Hussain (as) and the family of the Holy Prophet (saw). Sister Ambreen then called upon various people to recite Nasheeds, she also kept our hearts enlightened throughout the programme with poetry about those who were sacrificed in Karbala.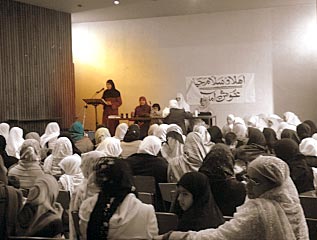 Following this, Sister Taiyyba gave a speech on one of the greatest women in Islam; Syeda Fatima-tul-Zahara (ra), she reinforced how we live in the West and seek for role models who lead us to nothing but corruption. She further stated that we should look into Islam and we will find a true role model for all women. She quoted many Ahadith showing the high status of Syeda Fatima-tul-Zahara (ra), one of the Hadith mentioned was, 'If you love Syeda Fatima-tul-Zahara then you love the Holy Prophet (saw).' Thus it is only logical that if we take Hazrat Fatima Zahara (ra) as our role model then we will be following in her footsteps hence making the Holy Prophet (saw) happy. She also highlighted that this was the Mission of Minhaj-ul-Quran and that Shaykh-ul-Islam Professor Dr. Tahir-ul-Qadri was striving to lead people to Karbala to revive the dying values of the Deen of the Holy Prophet (saw).
The mehfil consisted of over two hundred people.
Once again a few Nasheeds were recited and then we had Sister Sweba basing her speech on the status of the family (ahl-e-bait) of the Holy Prophet (saw). She emphasised that to love the Holy Prophet (saw), it is mandatory to love the family of the Holy Prophet (saw). She also a narrated a Hadith that the Holy Prophet (saw) said: 'Whoever loves my family loves me and whoever bears enmity against my family bears enmity against me.' She also highlighted the misconceptions that some people have in regards to Hazrat Aisha (ra) and Hazrat Abu Bakr Siddique (ra) proving through various Ahadith that they were the true lovers of the Holy Prophet (saw) and the family of the Holy Prophet (saw).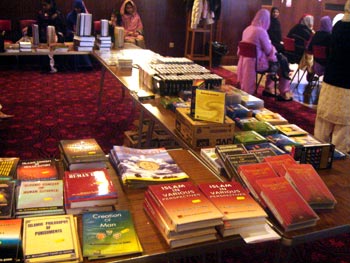 Finally, the last speaker for the programme was Sister Tasneem who gave a speech in Urdu, in her speech she discussed the events of Karbala; what the family of the Holy Prophet (saw) went through to keep the Deen of their Beloved Grandfather (saw) alive. The speech was very emotional and Sister Tasneem pointed out that these programmes weren't merely for us to shed tears and forget what had happened and why it had happened but to act upon the message of Karbala and to fight against tyrants like Yazeed and to keep Islamic values intact.
To conclude the programme greetings and salutations were sent upon the greatest of creation Allah's Beloved Messenger and his Beloved family (ra) and supplication was made to Allah Almighty.
There was also a stall set up consisting of Books/lectures of Shaykh-ul-Islam Dr Tahir-ul-Qadri and Nasheed CD's from various Nasheed Reciters, the stall proved to a great success. To conclude programme, food was distributed.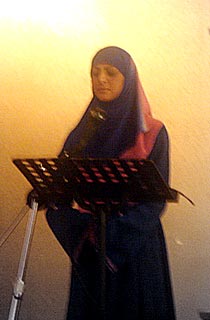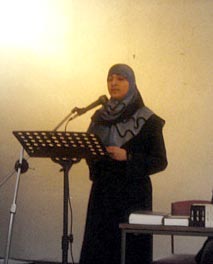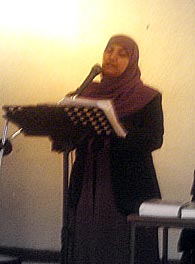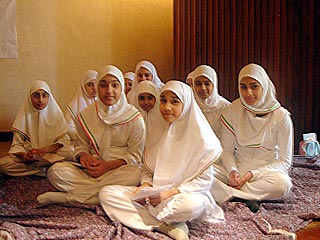 Reported by: Sister Humaira Shabir