Month of 'Safar' Sisters Programme held in France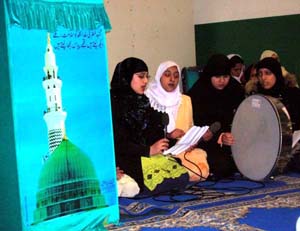 By the grace of Almighty Allah and the blessings of His Beloved Prophet (SAW), on the 12th of March 2006, Minhaj ul Quran 'France' Sisters League had the pleasure to organise an event during the Islamic month of safar.
Sister Asma Shehzadi presented the program. She began by explaining that it is in this month that many incidents happened in the Islamic history, for instance it was in Safar that Syedina Adam (AS) ate the forbidden fruit. Consequently, we should be very careful and carry out some extra 'ibadah. The month of Safar is the month of Calamities.
The event commenced with the recitation of surah 'Teen' from the Holy Quran by a former ICIS student.
Then a little sister, Kokab, recited a Hamd (praise in the glory of Almighty Allah) in a very loving way which made the audience give her many dua's for her future. Sister's league naat council recited Hamd followed by the Qasida Burda Shreef of Imam Buseeri.
Afterwards, Mrs Mumtaz Qadir started the series of nasheeds in her special style and beautiful voice. She said that all the time spent in the memory, the dhikr of our beloved Prophet Muhammad (SAW) is not waste of time but on the contrary can only benefit us. Then, Mrs Sultana Butt read praise to Syedna Abdul Qadir Al Jeelani (RA). Mrs Fehmida Kauthar, sister Sidra, Mrs Mumtaz Malik, Mrs Musarate Jahan, Mrs Nighat Butt and Mrs Shahida also recited nasheeds.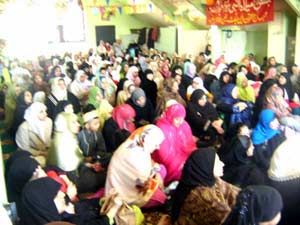 After a break for asar prayer, Hafiz Iqbal Azam, director of the Minhaj ul Quran Paris centre, delivered a very informative speech on the topic of the month of safar. He told us that Awlias (Allah's friends) used to pray two extra salah during this month and declared that those who passed this month of safar without any problem, were lucky.
Then he explained that when a person does a good deed, he gets the barakah, the reward of this deed not only in the hereafter but also in this world and when he commits a sin, he is punished in this world alike in the hereafter.
But sometimes a persons who commits injustices and do not seem to be punished for it, this is because Almighty Allah wants to see how far they will go, He is waiting for them, that maybe he will stop one day, but they go on doing bad deeds, because they become blind. Then Allah Almighty sends down His punishment (azab) which becomes a lesson for all the others.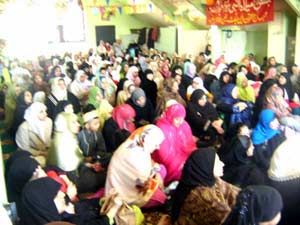 He related a recent event following the earthquake catastrophe which happened in Pakistan. He said that there was a bus in which there was a snake, creating a panic, but a courageous man eventually caught the snake and threw it through the bus window. That snake fell on a man who was on a motorbike, making him fall down. The man died in because of this and when they were trying to identify him they searched into his box, they found an arm of a woman wearing gold bangles. So that man had cut the arm of a woman buried after the earthquake. This was a very illustrative example to show how Allah SWT punishes people who commit extreme sins. Then Hafiz Iqbal Azam made it very clear that Allah was not being unjuste. Allah Almighty loves His creatures, it is said in a Hadith that Allah loves them more than a mother loves her children, subhanAllah! It is only because of our own sins that sometimes Allah (SWT) punishes us.
The event ended with the recitation of salutations on Holy prophet (SAW), and a meal was served in the name of Syedna Abdul Qadir Jilani (RA).
Reported by A sister from France