Luton Programme March 2007- In the Name of: Shaykh Abd ul-Qadir al- Jillani (ra) May 2007
MINHAJ-UL-QUR'AN WOMEN LEAGUE – LUTON, UK
A Spiritual Educational Activity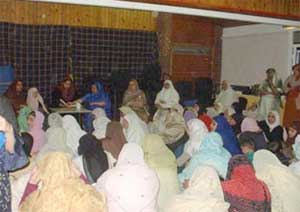 In the beautiful Green Dome Mosque in Luton many women gathered to attend a one day the conference in the name of Shaykh abdul Qadir al Jiliani (ra) organised by Mrs Shah. It was nice to see the younger sisters attending this programme as there can be some confusion in the minds of the youth around Awliyah (Saints) and their status and even their existence. (As'stugfir-Allah).
Lead by the stage secretary Sister Fardous (London, Women League, General Secretary) the programme began with recitation of Qur'an and Darood Sharif ( in the Style and wording of Shaykh ul-Islam) Many women recited Naat and Hamd including some of the 'younger sisters,' who were: Aysha Hussain and Rabiah Basri (both from the London Idara ). This brought a smile to the faces of our dear aunties who were delighted to see the younger generation participating in Islamic programmes.
Urdu Lecture Alima Faiza Qadri (Post Graduate from Minhaj ul- Qur'an Shari'a College for Women, Lahore) on acquiring piety and spiritual excellence.
Faiza welcomed all those present including the London team especially the president, Sister Naseem. She gave various verses from the Holy Qur'an related to the qualities and status of the Awliya(friends of Allah). The Holy Qur'an states:
"Lo! The awliya' of Allah, there is no fear upon them, nor do they grieve; those who believe and keep their duty to Allah. theirs are glad tidings in the life of this world, and in the Hereafter." Q[10:63-65]
She explained that a man becomes close to Allah(swt) through praying nawafil and quoted the following Hadith Qudsi:
"Allah said, 'I will declare war against him who shows hostility to a waliyy of Mine. And the most beloved things with which My slave comes nearer to Me, is that which I have made obligatory upon him; and My slave continues coming closer to Me through supererogatory deeds (nawafil) until I love him, so I become his sense of hearing with which he hears, and his sense of sight with which he sees, and his hand with which he grasps, and his foot with which he walks; and if he asks Me, I will give him, and if he asks My protection (Refuge), I will protect him; (i.e. give him My Refuge)." [Bukhari]
She narrated the event of the 'people of the cave'(Ashab Al-Kahf) and emphasised the importance of sitting with the pious people. Today we have an opportunity to work with one of these people, Shaykh-ul-Islam, and therefore we should strive and struggle with all our ability to obtain maximum benefit. She concluded her talk by explaining about the upcoming Al-Hidayah camp and encouraged all to attend.
English Lecture Khadijah Atkinson (London Sisters President, Al- Hidayah & Social Worker)
How to attain purity
Khadijah Concentrated on tarbiyya (training) for the younger sisters about attending Islamic programmes developing an interest for Islam. Khadijah spoke about Salah and cleanliness (Taharat and Ghusul) in Islam. Using hadith Khadijah enforced the importance of these issues.
Using examples from Shaykh ul- Islam's lecture she went on to explain the meaning of naffs and what effect it has, E.G: if our Imaan is weak then we will be inclined towards the society we are living in and it will become difficult to break our link with society and develop an interest in Islam. Khadijah spoke about modesty and good company and how one should treat their parents.
Khadijah finally concluded by encouraging the participants to attend the annual spiritual retreat, Al- Hidiyah 2007 and encouraged the participants to purchase the packs that had been provided by the London Idara. She highlighted that attending Minhaj ul-Qura'n Sisters' programme's are not merely about listening to the lectures and returning home it's about returning home having brought an Islamic lecture and trying to make an effort to learn about Islam from a person who has a strong attachment with Rasul(saw). This is surely more beneficial for persons Akhira.
Finally
Lead by Sister Firdous some words were recited in reverence to Shaykh Abd ul- Qadir al- Jilani (ra) followed by salat ul-salaam and a heart felt Du'a.
The Stall – What we consider to be the most important aspect of all of the programmes
A stall was set up consisting of both English and Urdu packs lead by sisters; Rahmana Qadri and Mahfooz Hussain. One DVD and one book, beautifully bound together with ribbon. A lap top showing Sheykh ul- Islam's 2006 Al- Hidayah lecture on The Iman al- Bakhari Series was displayed. Al- Hidiyah leaflets were available.
A healthy competition was held between the sisters about which packs would sell the most, 'English or Urdu' it was concluded that the Urdu Team won…'Mubruk/Congratulations' to them. However, it is not completely commiserations to the English Team as we would like to point out that the English packs were a 'tad' more expensive (this is not a justification, honest). Al-hamdulliah, this was just a bit of Islamic fun…we were all very delighted that a total of just over £200 was raised which went towards buying more English and Urdu packs for the benefit of the Muslim Ummah.
We felt certain that those sisters who brought either an Urdu or English pack would thoroughly enjoy their purchase and needless to say benefit immensely and we will probably meet them again in this year annual camp 2007. Insha'Allah.
Appreciation
We would like to thank our sisters: Parveen, Aisha, Fraeeda, Rabiah and Tasalwer who gave up their time in helping to prepare all the packs at London Idara, May Allah (swt) and His Rasul (swa) Keep them Healthy, happy and under the guidance of Hazur Sayidi Sheykh ul- Islam, Ammen.
Special thanks and Du'a's to the London Women's League for their attendance, help and support at Luton
Reported by: Sister Aysha London