Hundreds Mourn Loss of Benazir Bhutto
 HUNDREDS gathered on the afternoon of Friday 28th December 2007 at the Minhaj al-Quran International Centre based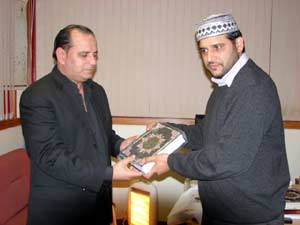 in Forest Gate, London, UK to pay respects to the late former prime minister of Pakistan, Benazir Bhutto.
Imam Sadiq Quershi led worshippers in prayers on Friday for the late Benazir Bhutto who died in a suicide attack in Rawalpindi, Pakistan. Imam Qureshi told mourners in a rather sombre mood "the beautiful fragrance of Benazir Bhutto will continue to dwell in people's hearts" he told listeners "it seems as if the poor and destitute have been deprived of their hard labour"
 Benazir Bhutto who last visited the UK headquarter of the Minhaj al-Quran International organisation in August 2003 where she met with it's founder Dr Muhammad Tahir al-Qadri. Benazir Bhutto became a life member of the organisation and praised the organisation for being dynamic, progressive and modern. Dr Muhammad Tahir al-Qadri on behalf on Minhaj al-Quran International Organisation has officially declared seven days mourning.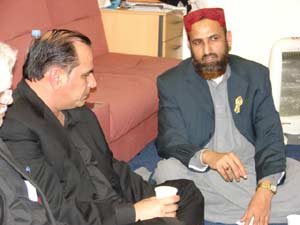 Ishtiaq Ahmad, president of the London based Minhaj al-Quran centre said "we are deeply saddened with the loss of Benazir Bhutto whom we had the privilege to work with she will be greatly missed by everyone". He further said "she has left many memories of her charming and charismatic personality when she last visited our centre in the summer of 2003" Ishtiaq Ahmad also said that Islam strongly condemns suicide attacks and that this was an act of criminals.
 Asif Shakoor, external affairs secretary of Minhaj al-Quran centre caught up with Benazir Bhutto at Newham Bookshop in early July 2007 he also paid tribute "I am deeply shocked, Benazir Bhutto will be remembered especially by the local community in Newham whom she visited on a number of occasions …she touched the hearts of many people it will take time to come to terms with her loss" He also said "she was a torchbearer of women's rights; she was a unique example for other women"
Waqas Malik, vice-president of Pakistan People's Party UK said "Benazir Bhutto was a religious person and determined to struggle for the cause she believed in until her ultimate end." Meeting with members of Minhaj al-Quran Centre in London, Riaz Khan general-secretary of Pakistan People's Party UK, said  "Benazir Bhutto's decision to become a life member of Minhaj ul Quran will surely benefit her in the hereafter" and "we ask for everyone to pray abundantly for her" said Riaz Khan.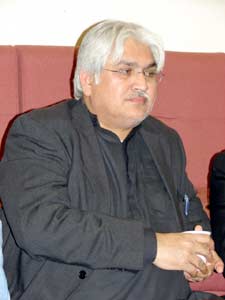 Councilor Dr Zulfiqar Ali chairman, Newham Alliance of Islamic Associations also joined hands in paying tribute; he said "the assassination of Benazir is an irreplaceable loss of a politician of international standing. She was a lady of great courage, conviction and determination. Such killings are totally unislamic and unjustifiable" He described the killing of Benazir as "deplorable". He further said "let us pray that our Creator Almighty gives strength to the Pakistani nation to cope with this loss to maintain stability and unity in the country. This is the time to set aside political differences and work to restore calm in the country", said Cllr Dr Zulfiqar Ali.
Vigils continue to be said for the late Benazir Bhutto at the Minhaj ul Quran centre on Romford Road. Senior members of the organisation also attended a memorial service organised by members of Benzair Bhutto's political party. Tributes were paid by faith leaders, politicians and members of Pakistan People's Party.
Repoted By: M.Asif Shakoor UK