Benazir Bhutto was a gallant daughter of a dauntless father: Dr Tahir-ul-Qadri
It is a heinous conspiracy and a dangerous maneuver of hidden hands to dismember Pakistan.
It is a serious failure of the government and law enforcing agencies.
Dr Qadri's telephonic press conference at Lahore Press Club from Canada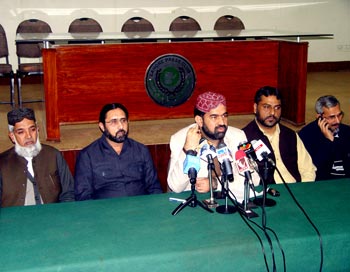 Chairman PAT Dr Tahir-ul-Qadri says his heart is filled with grief and sorrow over the brutal murder of PPP Chairperson Benazir Bhutto. May Allah bless her with forgiveness and peace. Expressing solidarity with the family members of the late Benazir Bhutto, PPP workers, leaders and the nation at large, Dr Qadri strongly condemned her assassination saying: It is the murder of democracy and political freedom and a heinous conspiracy and a dangerous maneuver of hidden hands to dismember Pakistan. Paying tributes to the dynamic leadership of Banazir Bhutto he called her a gallant daughter of a dauntless father whom the unforeseen forces have removed from the scene. She was a political leader of high stature. Dr Qadri was addressing a press conference at Lahore Press Club telephonically from Canada. Nazim-e-Aala MQI Dr Raheeq Ahmad Abbasi, Naib Nazim-e-Aala Shaikh Zahid Fayyaz, Anwar Akhtar Advocate, GM Malik and Director Media MQI Dr Shahid Mahmud were present on the occasion.
Zulfiqar Ali Bhutto was also removed from the seen by the hidden hands for his Nuclear Programme and holding Islamic Summit Conference at Lahore and now Benazir Bhutto has also been targeted and eliminated in continuation of the same antagonism of the hidden forces. But it is also a serious failure of the government and the law enforcing and peace keeping agencies, Dr Tahir-ul-Qadri said. He told the conference that he and Benazir Bhutto worked together on the platform of Pakistan Awami Ittihad and in GDA political struggle. 'She visited Minhaj-ul-Quran Secretariat and my place on many occasions and I also visited Bilawal House Karachi. She was a leader with a political vision,' Dr Tahir-ul-Qadri said while talking about his political contacts with Benazir Bhutto. He told the press that a funeral prayer in absentia for the late Benazir Bhutto was offered in MQI's Islamic Centre Jami Masjid Al-Mustafa Toronto Canada which was attended by the local PPP leaders.
He said that Benazir, greatly impressed by the social, welfare and educational projects of Minhaj-ul-Quran, came to the MQI Centre London filled the membership form in my presence and became the life member of Minhaj-ul-Quran International.
Answering a question Dr Qadri said it is premature to say who has murdered Benazir. The wave of terrorism has hit the country in the recent years so strongly that it is unprecedented in our history. I have not seen this extreme of terrorism in my life. Pakistan is a victim of the worst terrorism of its history. Answering another question Dr Qadri said: I have traveled two-thirds of the world; the name 'Al-Qaida' was never heard over the globe before 9/11. But now the situation is so worsened that whether it is Pakistan or some other location on the earth, wherever an act of terrorism is committed it is attributed to Al-Qaida. How far it is true is a question to ponder over. Replying a question he said: There are many Mulla and Amir-ul-Mominin in Pakistan nowadays. Nobody's life, property and prestige is safe and secure. The government's strategy to eliminate terrorism has badly failed. The culture and values of Northern and tribal Areas have not been understood with the result that their reaction has reached an intolerable extreme. Talking about elections he said: Democracy does not exist in the country. So I tabled my 80 page resignation from National Assembly 3 years before which is a history. About federation he said: Allah bless and protect our country and federation. Our enemies want to weaken us while although small we are a country with great potential and we are in a position to make progress. Our enemies are concentrating on Sindh, Frontier and Baluchistan. They are creating hatred against Punjab to undo our solidarity.
Later Nazim-e-Aala MQI Dr Raheeq Ahmad Abbasi said while talking to the newsmen that PAT flag will fly at half mast; PAT has already announced to mourn the assassination of Benazir Bhutto for seven days and has given her the title of Martyr of Democracy. All our centres round the world have suspended their activities; they will stage a peaceful protest on Sunday in-country and abroad. The contradictory statements being given by the government agencies are creating doubts about the murder. It is therefore inevitable that impartial inquiry be held of the tragic incident. He said that PPP was a patriotic party and was a symbol of federation. He said: We pay tribute to PPP leadership and workers that they have not gone impatient in this moment of extreme hardship. The world-wide mourning on the assassination of Benazir Bhutto is a manifest proof of her popularity. No leader has been paid such a homage at global level in the recent past. The PAT leaders held that the government has badly failed in maintaining law and order and eliminating terrorism from the country. Benazir's assassination is the failure of the present regime. The security measures must have been stringent and fool proof. They urged the people that they should keep a watch over the miscreants and mischief-mongers to avert losses of life and property of the people. They appealed to the workers of the PPP and other political parties to remain peaceful. At this juncture the miscreants will attempt to damage the solidarity of the country. The nation therefore must remain united to face this great tragedy with patience, perseverance and firm resolve.