MQI Youth Brothers Arranged a Splendid New Year Night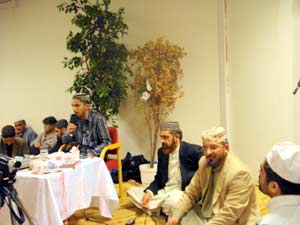 Alhamdulillah a splendid mehfil - e - naat was arranged by the Minhaj - ul - Quran International youth brother wing on the night of the 1st january at the center of the Minhaj - ul - Quran International Oslo. A huge number of men, women, young and old along with General Secretary of PPP in oslo Mirza Muhammad Zulifqar and other members of PPP also participated in the programme. The prgramme was dedicated to
Martyred Benazir Bhutto, and all other victims of this incident.
Programme started with the recitation of The Holy Quran by Muhammad Bilal Bhatti, and with a beautiful nasheed recited by Soban Ahmad.
Director of Minhaj Education Center Respected Allama Noor Ahmad Noor was doing his duty as a host. He expressed his deeply grief on the brutal murder of late Benazir Bhutto and all other victims. He said that she was a big personality of the Pakistani political movements and is a big loss for Pakistan.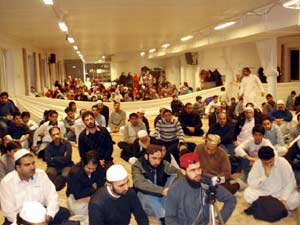 He said that such killings are totally unislamic and unjustifiable, the whole nation is condoling on her death and every Pakistani has become sad and we are with them in their grief and sorrows. Further told the audience that 'Hazoor Shaikh - ul - Islam Dr. Muhammad Tahir - ul - Qadri has also expressed his deep grief over the tragic assassination of late Benazir Bhutto and condemned in most strong words this brutal, timid and barbarous act of terrorism. MQI has officially declared 7 days mourning. Then he mentioned that in the year of 2007 a lot of blood have been flown of our nation.
Then Respected Abdul Manaan and respected brother Shahid Khursheed recited beautiful nasheeds in the prais of The Holy Prophet Muhammad (SAWW).
After this Respected Ameer Minhaj-ul-Quran International European council Allama Hassan Meer Qadri addressed the occasion and said that We  are deeply saddened with the loss of Benazir Bhutto, she was life member of MQI, she was a lady of great courage. This incident is most condemnable tragedy .I pray that may Allah bless her and all the victims of the incident with forgiveness and peace.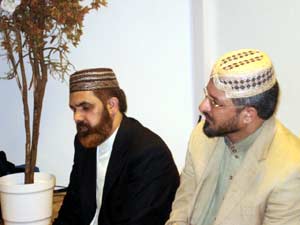 After this respected brother Milad Raza Qadri recited nasheeds in the prais of Rasoolullah (SAWW). The entire audience joined him in reciting nasheeds.
Allama Noor Ahmad Noor congratulated the youth on arranging such a beautiful night and appreciated the work of the leader of the youth Brother Aatif Rauf and his team for working hard and showing good results in such a short period.
He expressed that the need of today is to become united, to have faith on Allah (swt) and to make a strong relation of love and obedience with The Holy Prophet Muhammad (SAWW).
MQI is working hard to achieve these targets. He concentrated that you would not be able to find a such great personality like our Leader who has a record of lectures and books... come and join us to up lift this mission , that's the mission to become the servants of The Holy Prophet Muhammad (saw) . Come and devote your lives for this mission we have everything because we have a great leader with us.
May Allah (swt) give us taufeeq to spread the Mustafvi mission.
The programme ended with Salaam to Rasoolullah (saw) led by brother Milad Raza Qadri.
Fateah Khani for the Merhomeen and Dua by Respected Allama Noor Ahmad Noor.
Reported by : NH Qadri (Mwl Oslo) Norway