Nasheed Gathering with Shaykh-ul-Islam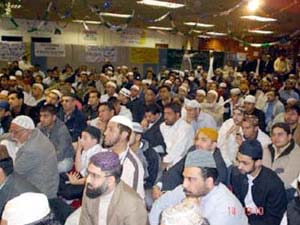 By the grace of Almighty Allah SWT on Sunday the 14th of May 2006, an auspicious nasheed gathering was held at Minhaj-ul-Quran London. An extra incentive for people coming from miles away was the presence of Shaykh-ul-Islam Dr Muhammad Tahir-ul-Qadri. People had gathered from all over the UK as well as from European countries including France and Norway. Buses and Coaches had come from as far as Scotland, Manchester and Nelson to get a glimpse of Shaykh-ul-Islam. The programme promptly began after Salat-ul Asr and Shaykh- ul-Islam arrived shortly after this. The hall had exceeded its capacity and people were praying in the corridors.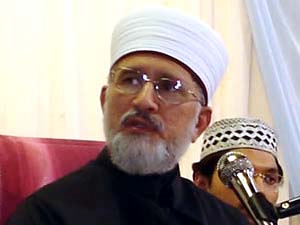 Shaykh-ul-Islam was accompanied by his beloved son Hussain Muhayuddin Qadri and his beloved grandson Hammad Mustafa. The stage consisted of many esteemed individuals as the Senior Vice President of Minhaj-ul-Qur'an Nantional Executive Council UK Allama Muhammad Afzal Saeedi, President of Minhaj Ul Quran Europe, Haji Muhammad Gulzar and many other prominent figures of Minhaj Ul Quran UK, Haji Muhammad Younis, Haji Hukamdad Qadri, Haji Muhammad Aslam and Haji Abdul Khaliq Sethi. Many Imams of mosques all over UK had also attended the gathering most notably from High Wycombe, Molana Ghulam Gillani (Jamia Mosque, High Wycombe) and Molana Khush Bakth-ur-Rehman. Also present was Sufi Mohammed Ameen Naqsbandhi(London)
As Shaykh-ul-Islam sat down he was given a brief introduction by Allama Ramzan Qadri before being handed the speaker. Shaykh-ul -Islam explained as it was a Mehfil E Naat he would explain what Naat was and its importance from Qura'nic references. (Detailed notes on the lecture available below).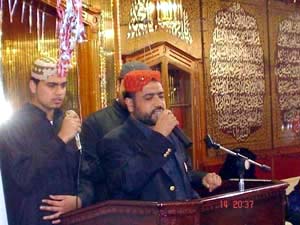 Once the lecture was completed Salat-ul Maghrib was performed and promptly Afzal Noshahi and his Nasheed group were called to read Shaykh-ul-Islam's Kalaams. The atmosphere was incredibly spiritual. As the Nasheeds gained momentum so did the spiritual state of the crowd and Shaykh-ul-Islam. Shaykh ul-Islam continually added verses to his great Kalaam which raised the tempo of the gathering. The Nasheed group sang for over an hour and finally their performance came to a halt when Salat-ul Isha was performed.
After the prayer Shaykh-ul-Islam did Du'a in which he said after this great gathering of Mehfil E Naat all I ask Allah SWT is to learn and respect the true meaning and importance of Naat. He also prayed for those in ill health and those who are and will be undertaking exams soon. The programme concluded with Shaykh-ul-Islam doing Musafa with the men present and doing a special dua for the sisters that participated.