Shocking News : Mr. Shahzad Akhtar Shaffi passed away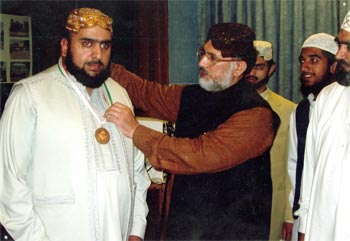 We are very sad to inform you that the Managing Director Minhaj Welfare Foundation U.K. Mr. Shahzad Akhtar Shaffi has passed away from this mortal world to the immortal life. ??? ??? ? ??? ???? ?????? As he was suffering from kidney problem for last six months. Presently, he was in Pakistan along with his family.
Mr. Shahzad Akhtar Shaffi was one of the most active member of Minhaj ul Qur'an all over the world. He was mainly responsible for all the matters of MWF in U.K. His services and contributions to the great Mission were exceptional. He was a very valuable asset for the great Mission of MQI. He will always be in our heart.
He has served a lot in MWF activities to provide funds in all projects of MWF like,
Educational Projects
Medical Projects
Aghosh (Orphan House)
Vocational Institutes
Earthquake in Pakistan
Earthquake in Bam (Iran)
Tsunami
Water Pumps Projects
Collective Marriages
And many more.
He passed away and left his everlasting memories as a cherished servant of Allah Almighty not only for his family but also for his associates. Undoubtedly, he was wonderful gift bestowed by Allah Almighty, to be cherished and loved for the maximum period of union in this world, and then served with remembrance and pious actions, invoking harmony and peace to his spirit in the Hereafter.
We, with all Members, Executives, affiliates and scholars of Minhaj-ul-Qur'an International (MQI) throughout the world pray to Allah Almighty together to bless his family and relatives with peace, harmony and extreme patience during this difficult and hard time.
Namaz-e-Janazah will be on 1st of Jun 2006 at 3:00 pm in KOTLA KASIM KHAN in Lala Moosa. Contact no. is 0537-452679