Mi'raj Conference Live on QTV
This year Minhaj-ul-Quran International (MQI) is holding its central Mi`raj-un-Nabi (SAW) conference in London. The Mi'raj-un-Nabi Conference will be taking place in Idara Minhaj-ul-Quran London on Sunday the 20th of August at 7.00 PM. Shaykh-ul-Islam Prof. Dr. Muhammad Tahir-ul-Qadri will be delivering the main lecture. The special guest of the programme is ash-Shaykh al-Muhaddith As'ad Muhammad Saeed as-Sagharji from Syria.
The conference will be shown live on QTV. The timing of the live telecast will be:
UK Time: 9:00 PM to 12:00 AM
EU Time: 10:00 PM to 1:00 AM
Pakistan Time: 1:00 AM to 4:00 AM
The conference will be celebrated concurrently all over the world by MQI local organisations via the live broadcast making it an international event.
Shaykh As'ad Muhammad Saeed as-Sagharji is on his first tour to the UK. He was the special guest at the Annual International Mawlid Conference this year and last year arranged by MQI in Lahore. His primary reason for coming to the UK was to lecture at the al-Hidayah 2006 youth camp taking place at the end of August.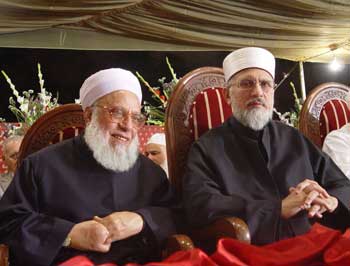 Shaykh As'ad Muhammad Saeed as-Sagharji lives in Damascus and is one of the greatest faqihs (jurists) of Syria. He is the author of the famous work "al-Fiqh al-Hanafi wa Adillatuhu". Not only is he a great scholar of Hadith, but also a deeply spiritual personality. The shaykh's works are taught in Jamia al Azhar, Egypt.
Shaykh as-Sagharji is the head Imam of renowned Jami`ah Masjid `Umawi (Ummayed mosque), a mosque which comprises of seven permanent imams who are among the top most authorities and scholars of Syria. His works are included as part of syllabuses in Islamic colleges and universities all over the world including at the prestige, al-Azhar of Egypt.
Shaykh As'ad Muhammad Saeed as-Sagharji will be speaking to the conference in Arabic through an interpreter.
Renowned scholars from the UK will also be guests at the conference. Famous Nasheed singers will also be performing.
Source: www.al-hidayah.co.uk
Report by
Jawed Iqbal Tahiri