Mr Khwaja Junaid visited the central secretariat of MQI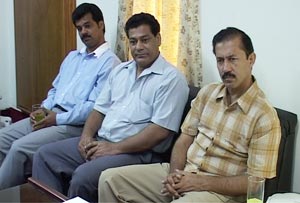 Former Olympian and player of the national hockey team, Mr Khwaja Junaid, visited the central secretariat of Minhaj-ul-Quran International (MQI) accompanied by coach of the hockey team Khalid Saeed and Mujahid Afzal (player National Junior Hockey Team). They were all welcomed by Naib Nazim-e-A`ala Sheikh Zahid Fayyaz. In his meeting Sheikh Zahid Fayyaz briefed the honourable guests about the multi dimensional work of Minhaj-ul-Quran International and the world wide services and achievements of Shaykh-ul-Islam Prof. Dr. Muhammad Tahir-ul-Qadri.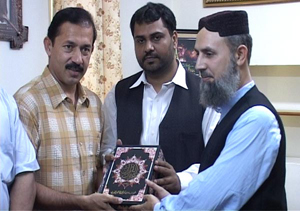 Khwaja Junaid said that he first met Shaykh-ul-Islam in the annual i`tikaf of 2005. Shaykh-ul-Islam treated me in a very nice manner that I will always remember it as my legacy. He added that Shaykh-ul-Islam has the true characteristics of leadership to solve international challenges and problems facing Islam. Shaykh-ul-Islam's services for Islam and the Muslim Ummah together with his work for world peace and harmony have shaped the twenty first century.
The guests were given a tour of all the forums and departments of the central secretariat. They were all presented with a copy of Irfan-ul-Quran - translation of the Holy Quran by Shaykh-ul-Islam, by Naib Nazim-e-A`la.