Preparations of I`tikaf completed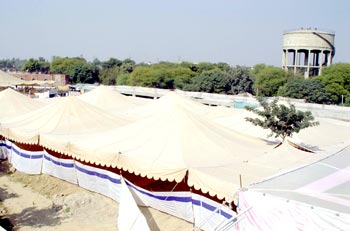 Tehreek Minhaj-ul-Quran's preparations are now complete. Thousands of foreigners and domestic Muslims will sit in itkaaf with Shaykh-ul-Islam Dr Mohammad Tahir ul Qadri on Saturday 14th of October in Jamia ul Minhaj Baghdad town Lahore. What's special in this i`tikaf is that thousands of women will sit in i`tikaf with men. After Harimain Sharifain the world's largest itekaaf is held by Minhaj-ul-Quran, in which huge numbers of youngsters from all over the world including America, Britain, Denmark, Australia, Norway etc sit in i`tikaf. People have started coming from Sindh, Baluchistan and foreign countries.
According to the president of Tehreek Minhaj-ul-Quran Dr Raheeq Ahmad Abbasi they have managed all the necessities for the people arriving including accommodation, security etc. In Itekaaf city there will be special lectures of Shaykh-ul-Islam Dr Tahir ul Qadri and special arrangements for dhikr and Naat. There will be special arrangements for the odd nights of the last 10 days of Ramadhan (Taaq Nights). According to administration people will be divided into city groups and every group leader is responsible for informing us about groups.
Source : http://itikaf.minhaj.org/index.php?lang=ur&mod=text&tid=4