Ziafat-e-Milad under the Minhaj-ul-Quran Ulma Council
Reported by:Hafiz Ali Akbar Alvi (Minhajian)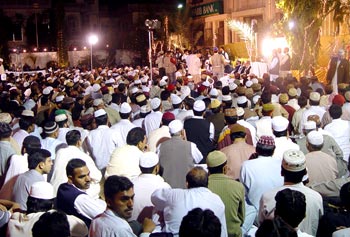 A wonderful feast was held under the flag of Minhaj-ul-Quran Religious Scholars at Central Secretariat of MQI on the 26th of March 2007. Shaykh-ul-Islam, Dr Muhammad Tahir-ul-Qadri presided over the holy gathering. Many religious Scholars and spiritualists from all the corners of the country participated into it. The religious scholars who were present were Allama Peer Shehzad Saefi, president of Saefi Cirlce Pakistan, Allama Ghulam Asghar Farooqi, well-known jurist, Safdar Ali Qadri, Veteran Scholar of Hadith of Jamia Ghousia from Saman abad, Allama Mohammad Zaman Ayyazi, Allama Abdul Aziz Faizi from Aziz Bhati Town, Hazrat Allama Mohammad Aslam Faridi, Nazimof Minhaj Ulama council Ravi Town, and many other religious scholars from Jamia Naeemia Lahore, Jamia Nooria Rizweia, Jamia Nizamia Rasoolia, and a vast majority of religious scholars from many other Jamiaat participated into the gatherings. Allama Haji Imdad-ullah president of Minhaj-ul-Quran Ullma council Punjab, Allama Mohammad Hussain Azad, Allama Asif Akbar Meer, and along with Miskeen Faiz-ur-Rehman, Ameer-e-Tehreek Minhaj-ul-Quran International, Dr Raheeq Ahmad Abbasi, Nazim-e-Aala, Sheikh Zahid Fayyaz, Vice Nazim-e-Aala and many other leaders were present at the occasion.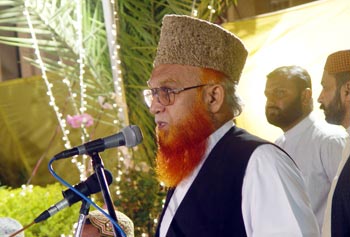 The Religious Scholars paid their tribute to Shaykh-ul-Islam Dr Mohammad Tahir-ul-Qadri for his matchless services he rendered for the Muslims world. They said that Shaykh-ul-Islam was representing the Muslim World round the globe and giving a lead to them in every walk of life. The protection Shaykh-ul-Islam has showered on the Muslims and specially Ahlus Sunnah Wal Jamaat will be remembered to the end and we would be indebted to him. The religious Scholars from different sects and backgrounds declared Shaykh-ul-Islam as their head and spiritual guide in every walk of life and expressed their confidence that he is the only man who can help the Muslim Ummah come out of their hard times. He is the only light in the time of distress. They told the audience that they feel pride on the services rendered by MQI and Shaykh-ul-Islam.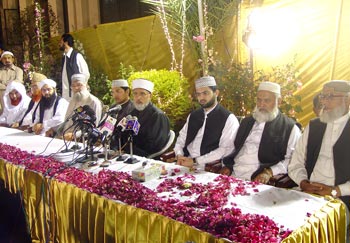 Shaykh-ul-Islam glorified the Services of Imam Ahmad Raza Khan Brailvi who played vital role to protect the true faith when the people were to trying to wash away the love of The Holy Prophet (SAW) in the sub-continent. He protected the doctrine of Ahlus sunnah and made it crooked proof. He said that he had an oceanic knowledge and vast research in Islamic studies. He also pointed out that he was the supreme and high jurist and spiritualist of his time. He put forward his juristic and doctrinal statement that helped thousands of Muslims to stick with their faith and not to get deviated. If he did not come forward, there would be no Ahlus Sunnah in the Sub continent. So the credit goes to him for his untiring effort he made for Islam. He said he himself was a naked sword against the ones who were poisonous to Islamic fundamental beliefs. He also pointed that Minhaj-ul-Quran is promoting the same ideology round the globe and involve in holy struggle against blasphemous- beings. He declared in his statement that belief of Ahlus Sunnah is the truest and purest belief and congratulated the people for having such a beautiful, moderate and sensible faith and urged the people to leave no stone unturned to promote and propagate it throughout the world.
He said in his eloquent and heart rending speech that religious scholars are crown of his head and he was their humble servant. He said they are heir of Prophetic knowledge and blessings. He said the doors of MQI are always opened for eminent Scholars and we are their to give a warm welcome and ready to receive them enthusiastically if they join our hands in our struggle and shoulder their responsibility for this heavenly mission and Mustafvi Revolution. He also recited one of the Hadith on the request of Scholars. Haji Imdad ullah thanked all the scholars who attended the gathering Allama Asif Akbar Meer was the compare of the programme.