Minhaj-ul-Quran International Arranges for Divine Lyrical Show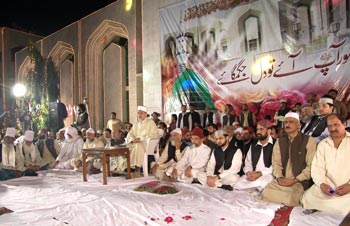 Reported by: Hafiz Ali Akbar Alvi (Minhajian)
Minhaj-ul-Quran International held Holy Divine Musical and Lyrical (Mehfil-e-Sima) gathering at its Central Secretariat on the 29th of March 2007. Shaykh-ul-Islam Dr Muhammad Tahir-ul-Qadri presided over the melodic gathering. This holy gathering was also the part of Milaad Zayafat. The guests who attended and enjoyed the heavenly bliss and company of Shaykh-ul-Islam in the gathering were Khawja Moeen-ud-deen Mehboob Koraija from Mithan Sharif, Peer Sayyad Khalil-ur-Rehman Chishti, Peer Sayyad Jamil-ur-Rehman Chishti, Sayyad Ali Ghazanfar Kararvi, Khawja Sufi Khaksar, Khawja Zinda Peer Ghalib Lahori, Shiffat Rasool from Multan, Sahabzada Hassan Mohay-ud-din Qadri, Sahabzada Hussain Mohay-ud-din Qadri, Dr Raheeq Ahmad Abbasi, Nazim-e-aala and Sheikh Zaid Fayyaz, Naib Nazim-e-Aala.
The gathering began with the recitation of the verses from the Holy Quran. Qari Allah Bukhush Nuqshbandi, veteran and famous Qari of national repute, Qari Muddasir Awan and Qari Qaramat Ali Naeemi enlightened the hearts of Audience when they were reciting the verses of the Holy Quran; most of the people were in the state of ecstasy and spiritual excitement. It was followed by Naat-e-Mustafa (SAW). Muhammad Imran Zahoori, Muhammad Shehzad Ashiq, Muhammad Sarwar Siddique, Minhaj Naat Council and Muhammad Afzal Nushahi from the holy land of Makkah got the honour to recite naats and praised the majestic personality and attributes of the Holy Prophet Muhammad (SAW) in verse form.
In the first part of the spiritual lyrical gathering, Rahat Nusrat Fateh Ali Khan, a veteran Qawal whose voice is much richer than the voice of Nightingale and Cuckoo, sang different holy poems like Rukh peh Rehmat ka Jhoomer Saja key (when He appeared with crown on his head..) Dum Humma Dum Ali Ali (I utter the name of Ali whenever I inhale breath..) Pukkarou Shah-e-Jilaan Ko Pukkaro (Call upon the majestic spiritual king and saint of Jilaan indicating to Hazrat Ghous-ul-Azam), Taerey Hottey Janam Lia Hota (I wish I were born in your time). Thousands of people who attended the gathering were enjoying themselves the holy lyrics to the end. They felt as if they were present in the holy court of the Holy prophet (PBUH). Shaykh-ul-Islam' comments that he had passed once and again supported by Quranic references were touching and appealing the most. They drove the people to an ideal spiritual state free from materialistic corruption. Shaykh-ul-Islam also applauded Rahat Fateh Ali Khan for his art and treading the way of His teacher and uncle Nusrat Fateh Ali Khan.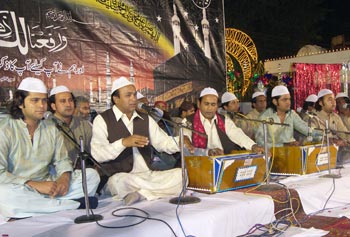 Shaykh-ul-Islam told the audience that he was in Canada when he firstly heard Nusrat Fateh Ali Khan and then he continued to listen and enjoy his lyrics on his many journeys in different countries. He made up his mind to arrange for lyrical gathering in which Nusrat Fateh Ali Khan would be invited but he passed away and left for the next world before he could do so. He said when he heard him he thought he is the man whose throat creates symphonic tunes and jingles. He told the audience that he was the best at his art.
The second part of Divine Lyrical gathering started when veteran Qawals, Mehir Ali and Shair Ali arrived and started singing holy songs. They sang Divine poems in Punjabi, IthaN main muthRi Nitt Balab, Pukkarou Shah-e-Jilaan Ko Pukkaro (Call upon the majestic spiritual king and saint of Jilaan indicating to Hazrat Ghous-ul-Azam), Aao Tasbeeh-e-Subbah Shaam Kurrain (let us adore Allah morning and evening), Mari Tou Aas Tarrey Sang-e-Dar say Hey (All my hopes appear and disappear having access to your court). They audience were moved and touched a lot. He rejuvenated spiritual situation. Shaykh-ul-Islam also expressed his joy and fondness of their works and art. The divine Lyrical gathering came to an end at 3'o Clock in the morning.
Reading Qawali is the holy practice, founded by the saints who belong to Chishti fountain. Minhaj-ul-Quran International is resurrecting that practice and bringing to its life in present era. Minhaj-ul-Quran International is unique because it gives equal value to the noble traditions and practices of every sect. Minhaj-ul-Quran in this way is striving hard to bring the people from different origins together and promoting unity and brotherhood. Minhaj-ul-Quran International is providing a place where all people feel at ease because it is the movement free from sectarian prejudices.
At the end of gathering, Peer Khalil-ur-Rehman Chishti prayed for the audience, the Muslims and for the country and long life of Shaykh-ul-Islam. They also arranged for a pleasant feast. Muhammad Awais and Sayyad Farhat Hussain Shah was the compare of the programme.