Islam protector of rights of businessman & consumers: Dr Hassan Qadri addresses Halal Summit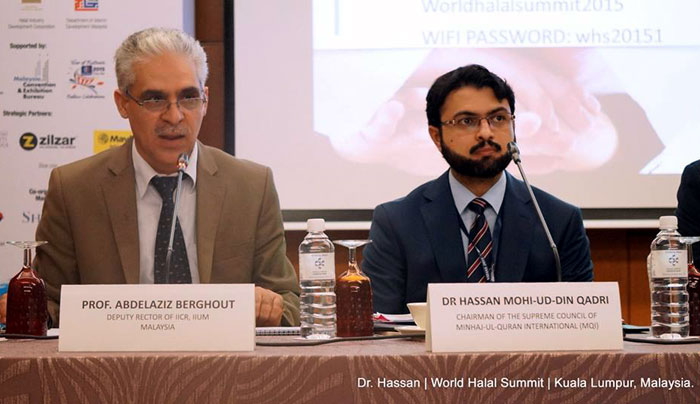 Dr Hassan Mohi-ud-Din Qadri, the Chairman of MQI Supreme Council, has said that the consideration of moral principles in international commerce and trade is important to establish mutually beneficial partnerships. The businessmen will stand to benefit from their transactions if they comply with quality standards and employ honesty in their dealings.
Dr Hassan Mohi-ud-Din Qadri expressed these views while delivering a keynote address at the Scholars Forum of World Halal Summit on the subject of 'international trade and morality.' The Summit being held in the Malaysian capital has brought together opinion leaders, thinkers and professionals from around the world.
Dr Hassan, in his speech, said that Islam looks after the interests of both the businessman and consumers. He said that we would have to understand the moral basis and values of businesses. He said that consumers' satisfaction could be ensured by acting upon the Islamic economic principles. He said that the interests and well-being of the consumers are at the heart of any business in accordance with Islamic principles.
The Chairman of Supreme Council said that in a capitalistic world, it is important to resort to the Islamic economic morality to make the business, trade and commerce fair, adding that the businessmen should be encouraged to learn the morality of Islamic economics. He said that there is no parallel of moderate Islamic order in any other religion except Islam. He said that Islam has set down the rights of consumers and businessmen. He said that Islam does not do injustice to anyone and lays down a system of fair distribution of profit. It discourages employment of negative tactics to damage the interests of other competitors in the market.
Dr. Hassan represents #Pakistan at the World Halal Summit (Scholars Forum) in Kuala Lumpur, Malaysia. pic.twitter.com/iQlyZ410q1

— Dr. Hassan Qadri (@DrHassanQadri) April 2, 2015