Pakistan should play the role of elder brother in Yemen conflict: PAT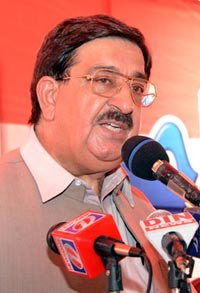 PAT Secretary General Khurram Nawaz Gandapur has said that the government advertised its policy on the Yemen issue first and convened a joint sitting of Parliament later. He said that the Pakistan Army should go for the protection of sacred places in Makkah and Madina but the role of Pakistan should be that of a big brother in internal affairs of the Arabs.
Commenting on the joint sitting of Parliament convened by the government to discuss prevailing situation in Yemen, the PAT Secretary General said that dangers and insecurity increased for the Pakistanis living in Yemen due to rashness and ill-considered moves of the government. He said that national interest, not personal friendships and relations, is important in international relations.
The PAT Secretary General said that the international community adopted dialogue as a means for resolving dispute on Iranian nuclear issue, adding that the Muslim world should also prefer dialogue for resolution of their internal conflicts. He said that the Prime Minister should not undertake whirlwind foreign tours but spend his maximum time on creating national consensus at home. He said that it has been the desire of the declared and secret enemies of Pakistan that the Muslim world remains embroiled in internal conflicts, adding that the rulers of the Muslim countries should keep this mind.
Khurram Nawaz Gandapur said that it is interesting that on the one hand, the PML-N government is bent on proving the judicial commission on Model Town tragedy controversial and is reluctant to submit notification of its constitution to LHC and on the other hand, it has set up another judicial commission to investigate rigging. He said there is discrepancy in the sayings and actions of the present rulers.