Skipper of Pakistan National Hockey Team, Muhammad Rehan Butt visits MQI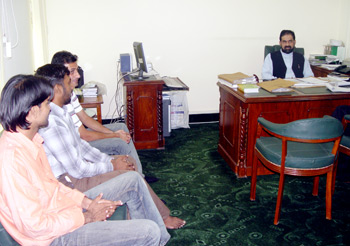 Reported by: M S Pakistani
Translated by: Ali Akbar Alvi (Minhajian)
Skipper of Pakistan National Hockey Team, Muhammad Rehan Butt visited Central Secretariat of Minhaj-ul-Quran International on the 30th May 2007. He was given a warm welcome at the occasion. He met Dr. Raheeq Ahmad Abbasi, Nazim-e-Aala Minhaj-ul-Quran International. He welcomed him for his first visit. He introduced him with Shaykh-ul-Islam and his mission to change the destiny of the Muslim Ummah. He further told him that Minhaj-ul-Quran International is working to promote peace and harmony round the globe.
Dr. Raheeq Ahmad Abbassi also shed light on the services rendered by Shaykh-ul-Islam and the way they are being lauded round the globe. He said Minhaj-ul-Quran International is trying to convey the noble virtues and traditions of Islam to every living soul round the globe. He said that Shaykh-ul-Islam revivalistics unprecedented efforts are light for us to guide. Dr. Raheeq Ahmad Abbassi also gave him a gift of the translation of the Holy Quran in the form of Irfan-ul-Quran.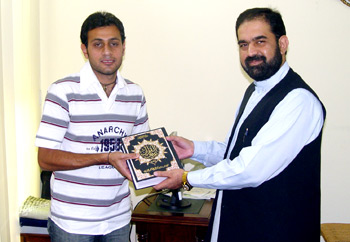 The Skipper said, although it was his first visit to Minhaj-ul-Quran yet he would never be able to forget the love and affection he received here. He said that he is fan of Shaykh-ul-Islam and it is his burning desire to see him personally. He also said that the present is highly valuable and he would try his level most to benefit from it the most.
After the meeting with Nzim-e-Aala, he was led to the different departments of Minhaj-ul-Quran International and was introduced with them. He took keen interest during his visits of the different department. At Minhaj-ul-Quran Sale Centre he saw Shaykh-ul-Islam books and admired Minhaj-us-Sawi and some the videos and cassettes. He also liked the picture of the Holy Name of Muhammad (SAW) that appeared round the moon during Shaykh-ul-Islam's speech on the 12th of Rabi-ul-Awwal at International Mawlid Conference.
He was presented those books. Later on he went to Gosha-e-Durood where he registered his humble presence and read Durood Sharif upon the Holy Prophet Muhammad (SAW). He also met Imtiaz Awan at the office of Shaykh-ul-Islam. He said at the end of his visit that Minhaj-ul-uran International is doing a really wonderful job for peace and common cause of Muslim World. He said that Shaykh-ul-Islam is a man we should be proud of and joined his hands to achieve his targets and mission.