Minhaj-ul-Quran International Advisory Council's Meeting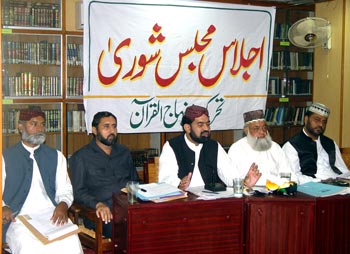 Translated by: Muhammad Hanif Minhajian
The advisory council of Minhaj-ul-Quran International held its meeting at the headquarters of Minhaj-ul-Quran International. The members of this body participated in the conference from all the four provinces of Pakistan including Kashmir. Central Ameer-e-Tehreek Faiz-ur-Rahman Durrani presided over the meeting. Nazim-e-Aala Dr Raheeq Ahmad Abbasi, Naib Nazim-e-Aala Sheikh Zahid Fayyaz, Naib Ameer-e-Tehreek and Safeer-e-Europe Minhaj-ul-Quran International Hafiz Nazeer Ahmad, Ameer-e-Punjab Ahmad Nawaz Anjum, Secretary General Pakistan Awami Tehreek Anwar Akhtar Advocate, Director Media and Public Relations Dr Shahid Mahmood, GM Malik and the heads of other directorates also participated in the meeting. Shaykh-ul-Islam Dr Muhammad Tahir-ul-Qadri addressed the meeting through telephone. "The workers of the Tehreek should take up the task of turning 12 cities of Pakistan into models of peace and calm. Minhaj-ul-Quran is an international body, which advocates peace. We condemn extremism and terrorism at all levels. And we believe in and promote love, brotherhood, peace and dialogue. It is about time the workers of the movement played their role for establishing peace in society. They should develop such a system of training that will help wipe out extremism and change narrow attitudes, which should result in restoring great values of Islam."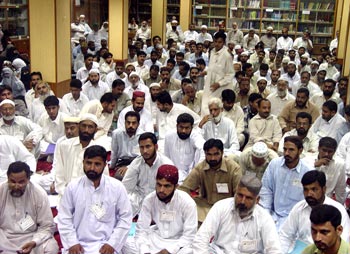 He expressed his regret at the international conspiracies for linking Islam with extremism and terrorism. While the fact is that Islam teaches the great lessons of peace, safety and well-being of humanity. He stressed the Minhaj-ul-Quran wants to eradicate terrorism, extremism and narrow-mindedness from the face of the earth. The workers - as representatives of peace and love - should work hard for spreading these values.
Speaking on the occasion, Dr Raheeq Ahmad Abbasi announced that the Minhaj-ul-Quran International had declared the current year would be used for raising membership. The workers should put more efforts into their work: they should work in such a way as the new workers may turn into sincere workers.
The meeting passed some resolutions condemning the following debacles: the knighthood of Salman Rushdi; the destruction of Hadrat Talha's, Shaykh Abdul Qadir Jilani's and Imam Hasan Askari's tombs; unjust spilling of Muslim's blood around the world. The meeting asked the British Government for withdrawing the knighthood from cursed Rushdi. Also, the allied forces must not show any more disrespect to the places sacred to the Muslim community and steps must be taken for lasting peace. The world-wide assassination of poor unarmed Muslims must come to an end without any delay. Finally, the meeting asked the UNO, OIC and great world powers to intervene in these circumstances and work seriously towards durable peace.