Funeral Prayer of the Mother of Allama Hafiz Nazir Ahmad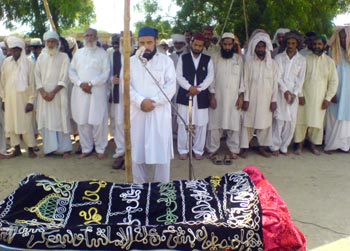 Translated by: Ali Akbar Alvi (Minhajian)
Minhaj-ul-Quran International's Ambassador for Europe, the funeral prayer of Allama Hafiz Nazir Ahmad's mother was offered on the 9th of July 2007 in Faisalabad. Sahibzada Allama Miskeen Faiz-ur-Rehman Durrani, Ameer-e-Tehreek talked of death before the prayer and Allama Nazir Ahmad himself led the funeral prayer. Miskeen Faiz-ur-Rehman said in his speech that the departed soul was highly exalted and noble lady who led his life following footsteps Aaqa (SAW). He said that Allama Nazir Ahmad is a living example of her meticulous spiritual training she exercised in her life. He said that Minhaj-ul-Quran International and Shaykh-ul-Islam feel proud of him today and always.
A delegate of Minhaj-ul-Quran International from Central Secretariat registered their humble presence headed by Sahibzada Miskeen Faiz-ur-Rehman Durrani. The delegate consists on Principal Secretary to Shaykh-ul-Islam, G M Malik, Ahmad Nawaz Anjum, Ameer-e-Tehreek Minhaj-ul-Quran Punjab, Shakil Ahmad Tahir, Javid Iqbal Qadri, Raja Zahid Mahmood, Prof. Muhammad Nawaz Zafar, Yasir khan and many others. People from all walk of life participated in the prayer. Prof. Muhammad Nawaz Zafar prayed for the forgiveness and unfathomable blessings for the passer away.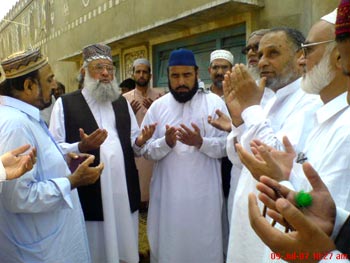 After the prayer, the delegates consoled Allama Nazir Ahmad and expressed their grief and concerns to him. The people from the surroundings and far off areas were also present at the sad occasion. She was buried in a local graveyard in Faisalabad.
The affiliates of Minhaj-ul-Quran round the globe are continuously sending their condolence in letters, e-mails and through SMS.
We all pray for the rest of her soul in peace and harming. May Allah almighty enlightened her grave with his Noor and the Noor of the holy Prophet (SAW) and shower his unfathomable blessings upon her last abode. Amen