Farid-e-Millat Seminar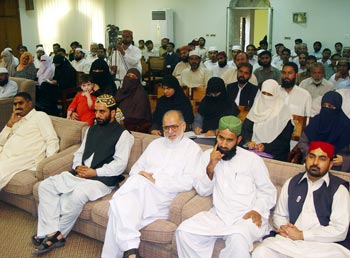 Reported by: M S Pakistani
Translated by: Amanat Chaudhary
On Monday dated October 29, 2007, Farid-e-Millat Seminar was held under the banner of Minhaj-ul-Quran Ulama Council at the Central Secretariat of Minhaj-ul-Quran International. The seminar was conducted in connection with the remembrance of Shaykh-ul-Islam's father, Dr Farid-ud-Din Qadri, which was presided over by Central Amir of Minhaj-ul-Quran International, Miskeen Faiz-ur-Rahman Khan Durrani. Sahibzada Hussain Muhyuddin Qardi was the guest of honour at this occasion.
The proceedings of the seminar started with the recitation from the Holy Quran by Qari Allah Bakhsh Naqshbandi, while Sarwar Saddique presented Na`t. Special "kalam" was offered in the honour of Qudwat-ul-Awliya' by Shakeel Ahmad Tahir. Allama Mufti Abdul Tawwab Siddiqui (Shaykh-ul-Hadith, Jamia Nizamia Rizwiya) delivered the special speech, while other speakers who spoke on the occasion included Pir Sayyid Khalil-ur-Rahman Chishti, Central Deputy Amir of Minhaj-ul-Quran International, Allama Inayat Ali Shakir, Chairman Tehreek Akhuwat-e-Islami, Allama Abdul Haq Chishti, chief editor monthly Nur-ul-Irfan, Imam Bakhsh Akhtar Sialwi, president Ulama Council Samanabad and Allama Sayed Farhat Hussain Shah, Central Nazim Ulama Council.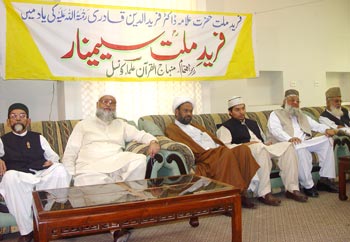 The stage secretary at the occasion who conducted the proceedings was Muhammad Hussain Azad. Other prominent guests included Dr Raheeq Ahmad Abbasi, Nazim-e-Ala MQI, Sheikh Zahid Fayyaz, Deputy Nazim-e-Ala, Sheikh-ul-Hadith Allama Muhammad Miraj-ul-Islam, In-charge M Phil programme MUL Dr Masood Ahmad Mujahid, Ahmad Nawaz Anjum Amir-e-Tehreek Punjab, Allama Imdadullah Khan Qadri, president Minhaj-ul-Quran Ulama Council Punjab, Allama Mir Muhammad Asif Akbar, Nazim Ulama Council Punjab, Allama Muhammad Usman Sialvi, Nazim office Ulama Council, Allama Muhammad Asghar Siddique, president Ulama Council Lahore and Allama Muhammad Mumtaz Hussain, Nazim Ulama Council.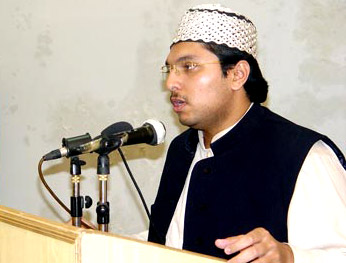 Speaking at the end of the memorial meeting, the chief guest Sahibzada Hussain Mohy-ud-Din Qadri threw light on the teachings and services of Farid-e-Millat. He said that the life of Farid-e-Millat was beacon of light for Minhaj-ul-Quran International. After the conclusion of meeting, Sahibzada Miskeen Faiz-ur-Rahman Durrani led special prayers followed by lunch. Later on, the learned guest scholars held a meeting with Sahibzada Hussain Mohy-ud-Din Qadri who gifted them latest books of Shaykh-ul-Islam namely Al-Minhaj-us-Savi, and Kitab-ul-Manaqib.