Second day of weekly celebrations under the aegis of Bazm-e-Minhaj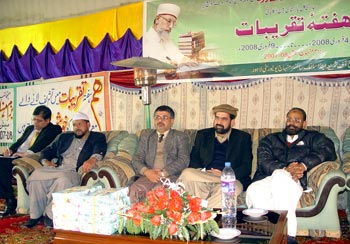 Translated by: Amanat Ali Chadhary
Urdu Declamation context was arranged on February 5 on the second day of weekly celebrations under the aegis of Bazm-e-Minhaj in the College of Shariah and Islamic Sciences (Minhaj University). The topic of declamation contest was "set your sail in accordance with the direction of the wind". Principal of College Dr Raheeq Ahmad Abbasi chaired the programme while former provincial minister Sardar Hassan Akhtar Moakal was the guest of honour at the occasion. Chairman International Literary Society Pakistan Dr Shahbih-ul-Hassan, Prof Muhammad Asif Watto, Mufti Abdul Qayyum Khan Hazarvi, Prof Muhammad Nawaz Zafar, G.M. Malik, Dr Masood Mujahid, Senior journalist Aamir Waqas, Pir Sayed Ali Husnain, S.M. Shafique, Sardar Iqbal Sharif, Shahzad Rasool Qadri, Sajid Mahmood Bhutti, Ms Farah Naz and others were also present as guests.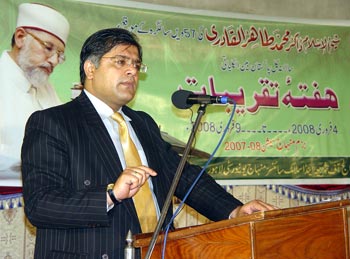 Presenting their arguments the students said that we would have to bring about positive change in our attitudes and start our journey toward our destination. They criticized the conduct of politicians saying that there is no dearth of such politicians who did not compromise on their conscience. They have damaged the country and the nation through their spurious policies and have set up records in this regard. We are a free nation and through our right to self-determination we can bring about change in the system. This can happen only when we discourage such elements.
Dr Ali Akber Al-Azhari, chief jury member, announced the result. Farah Faiz of Quaid-e-Azam College, Shahid Chaudhry of M.A.O. College, Abu Baker Haider of COSIS and Muhammad Azhar Abbasi got first, second, third and fourth positions respectively. The team of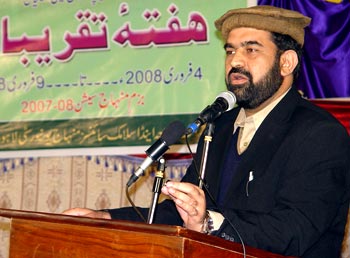 COSIS surrendered its position to the GC University.
 Addressing the audience, the chief guest Sardar Hassan Akhtar Moakal said that he was honoured to be part of a programme at Minhaj University. The intelligent students are priceless asset of the nation. Reawakening will have to be created among the students. Guidance from the Holy Quran and Sunna was the source of our salvation.
Nazim-e-Ala Dr Raheeq Ahmad Abbasi said that we know Sardar Hassan Akhtar Moakal not as a politician but as a lover of the Prophet of Islam (SAW). It has been a matter of immense pleasure to have him in the secretariat of Minhaj-ul-Quran International. He extended his gratitude for his encouragement to the students. He said our national politics has been given such a twist that Pakistan Awami Tehreek thought it fit not to be part of this oppressive system of elections and dissociated itself from politics. We would have to get united upon an ideology, otherwise, status quo would continue to hold sway in the country and there would be no light at the end of tunnel.
Dr Shahbih-ul-Hassan and journalist Aamir Waqas also spoke at the occasion. At the conclusion of the programme, prizes were distributed among the winners.