Bradford celebration the 57th birthday of Shaykh-ul-Islam
Once again we reached a pivotal point in history marking another birthday of one of Allah's greatest, g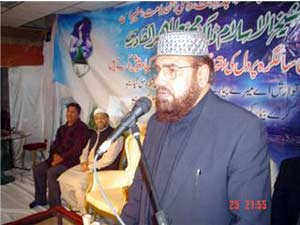 ifted and precious modern day knight in shining armour. Minhaj-ul-Quran Intenrational (Bradford) celebrated the 57th birthday of Shaykh-ul-Islam on a spending night of entertainment to mark Qaid Day 2008. 
The spiritual and uplifting programme was presided by Allama Hafiz Nazir Ahmad Khan Qadri, International Ambassador of Minhaj-ul-Quran along with Shaykh Abu Adam Ahmad As-Shirazi, President of MQI NEC UK and Allama Hafiz Abdul Saeed, Director of Education MQI Bradford.
The programme commenced with the recitation of the Holy Qur'an, followed by Naat recitation of the Holy Prophet and greetings and salutations on Him, His family and His companions.
The programme included a speech by Shaykh Abu Adam Ahmad As-Shirazi, who gave a personal account of his love and devotion towards Shaykh-ul-Islam. Allama Hafiz Nazir Ahmad Khan Qadri shared the blessings of Shaykh-ul-Islam and gave a glimpse of his character and personality and the miracle prodigy that Almighty has given in the guise of Professor Dr Muhammad Tahir ul Qadri.
The programme included Naat recitation by MQI Bradford's very own star Naat Khan, Nasir Karim, followed by Muhammad Ejaz Qadri, Kabbir Hussain and Zain Shabbir (students of Farghana Institute), followed by Minhaj-ul-Quran's international naat recitation sensation, Milad Raza Qadri of Glasgow.
There was brief slide show presentation prepared by Farghana Institute highlighted the works of Shaykh-ul-Islam.
The programme concluded with a mefil-e-Sima by Abdul Hamid and Qawal, a local group of young british born Pakistani youths who performed some Kalaams by Shaykh-ul-Islam. The programme ended with dua by Allama Hafiz Nazir Ahmad Khan Qadri much to the delight of hundred of cheering participants of the programme.
May Almighty Allah and His Beloved Rasool (SAW) accept out small efforts in celebrating a day in the life of one of Allah's chosen one - Ameen!
MQI Bradford