Milaad e Mustafa (saw) Conference : Special activity to promote veneration for the ideal patron of life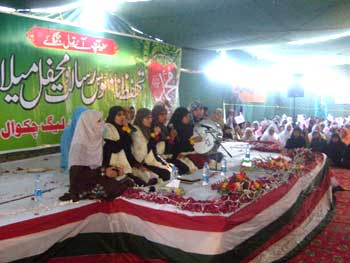 Minhaj ul Qur'an women league Chakwal, organized a beautiful mehfil milaad at 30th March 2008. They entitled the programme 'Namoos e Risalat (saw) Conference and dedicated whole programme for the protection and uplifting of the status of the Holy Prophet (saw) . More than 5000 women from each and every walk of life attended programme with great interest.
Sister Sonia (Co-Director Women league Chakwal) was the stage secretary. Qaria Hajra recited versus from the Holy Qur'an and Sister Zahida paid salutations to the Holy Prophet (saw). Many Naat khawan from Chakwal recited naats, showing their love for Holy Prophet (saw). Then the Minhaj Naat Council from the Central Minhaj College for Women recited naats very beautifully, involving the attendants. The whole programme became a symbol of love at that time. Razia Shaheen (Central Director Tanzimaat, Minhaj ul Qur'an Women league) delivered a great speech on the topic of "Namoos e Risalat and Love for Holy Prophet (saw)". At the end, salaat and salaam was paid to Holy Prophet Saw.
The participants vowed to shun evils and bring about love-based social-relationing in everyday life following sunnah of the Holy Prophet (saw).
By: Rabia Urooj Malik