MWF Health Projects
Minhaj Free Dispensaries
Pakistan is a developing country and 1/3rd of its population is living below the poverty line. The acquisition of basic facilities of health is the right of every citizen and responsibility of state. More than half of population is deprived of generic facilities of health. The dangers posed to health have increased manifold with the passage of time. The state of health in Pakistan has deteriorated miserably in recent years. Pakistan still faces the problem of less number of doctors, nurses and other necessary items in comparison to the demands of total population. The prices of medicines have shot up and it has become impossible for the common man to afford medication these days. The price of cloistral-reducing drugs in India is Rs. 8, while it is Rs. 60 in Pakistan. Likewise the prices of blood pressure-reducing drugs in India and Pakistan stand at Rs. 10 and Rs.100 respectively. There is a great difference in the prices of the drugs composed of the same ingredients of the various companies. The government has promised many a time to set up "Drug Regulatory Authority" but this promise has not been materialized. Keeping all these conditions in view, Minhaj Welfare Foundation started project of free dispensaries with an aim to provide better health facilities to the public. The patients are given free medicines by the Minhaj Welfare Foundation in these dispensaries along with medical check-up.
The total number of Minhaj Free clinics and blood banks throughout the country is 110. The establishment of this network has cost Rs. 40 million and thousands of people are benefit from this. Embulance service expenditure 1,50,20,400.
Minhaj Blood Banks, Thelesemia and Hemophilia Centers
Thelesemia is very fatal disease. The red blood cells are not developed originally in majority of the patients suffering from this disease. The lungs of the patients start getting enlarged. Every patient of Thelesemia needs one bottle of blood in a period of 2 to 3 weeks and in case of non-availability, it could be pretty dangerous.
The patients suffering from hemophilia get free medical facility and FFP from blood in Minhaj Blood Banks. If blood starts oozing out of any part of body, it hardly stops. Such patients need 2 to 5 bottles of FFP blood in a period of 2 to 3 weeks and in case of non-availability, life could be lost.
Dialysis is that process of washing of kidneys in which the kidneys are to be washed once between 3 and 7 days. This disease causes lessening of blood in human body and at every time of dialysis, blood with the ingredients like FFP/platlets is needed. Without the availability of blood, dialysis is not possible and without dialysis life of patient is in danger.
Minhaj Blood Bank makes the availability of blood with necessary ingredients possible for the patients of cancer because the immunity level of the patient of cancer is weakened. The blood and its ingredients start getting reduced in body. So in order to remain alive, a patient needs blood with necessary ingredients. No such patients can be cured without availability of blood and blood with necessary ingredients.
Minhaj Blood Bank, Thelesemia and Hemophilia Center is working appreciably well in Multan. Minhaj Free Blood Banks are offering their services in the vicinities of all big hospitals of country. Thousands of people have got benefited from this project so far. Our aim is not only the provision of blood but of quality blood.
Free Eye Surgery Camps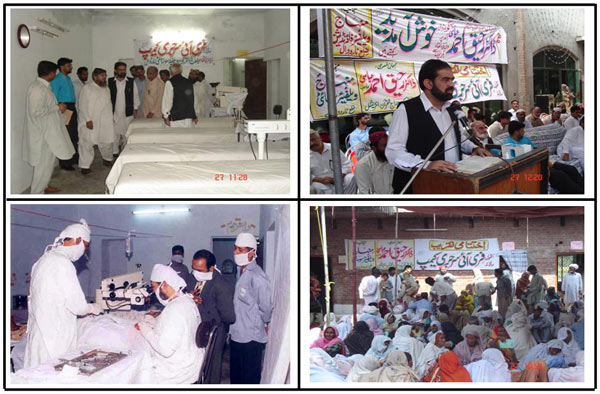 Eyes are the most valuable gift of Allah Almighty and are an important and beautiful organ of our body. They make us observe surroundings around us. In Pakistan where general state of health is getting deteriorated by the day, the diseases of eyes are also increasing there. Environmental pollution is the chief reason of this malaise. There are around 6 million blind people in the world today. The number of blind people in Pakistan is also increasing. Keeping this situation in view, Minhaj Welfare Foundation (MWF) started holding free eye surgery camps in the backward and far-flung areas of Pakistan. According to the prevalent concept of eye-camp in Pakistan, it is getting oneself checked up by a doctor one day and getting a prescription of medicine. Whereas annual free surgery eye camp is held under the banner of Minhaj Welfare Foundation benefiting hundreds of patients each year. Some of the prominent characteristics of these camps are given below:
Characteristics of these camps
The camps are held under the supervision of experienced doctors of big hospitals of Lahore.
Medicines and equipment of international standard is used in these camps.
These camps are held in those districts which National Commission for Human Development has identified as being backward. Minhaj Welfare Foundation focuses on these far-flung backward areas for OPD camps where people find it hard to come to cities for treatment owing to poverty and ignorance. Thus they get the medical facility at their doorstep through MWF.
Our teams of doctors visit such rural areas and hold OPD camps prior to arranging surgery camps where the deserving people get fist aid medicine on the spot whereas more serious patients are given dates of operation. It is in this way that 3000 people are operated upon annually.
The patients recommended for operation by the OPD initial camps are operated upon within three days under the supervision of expert professors.
The patients are kept under the medical treatment for a day or two. Minhaj Welfare Foundation is responsible for boarding and lodging of such poor patients.
Minhaj Welfare Foundation also arranges for the provision of lenses as per patients' needs and post-operation eye drops etc.
About 500 patients are operated upon annually.
The patients belonging to middle, lower middle and lower class benefit from such camps.
Our doctors do not leave patients helpless after operations. They are checked up medically after every 15 days for three months and administered medicine on per need basis.
The district governments have declared these camps as highly organized and welfare-oriented. The government organizations have expressed their gratitude for the Minhaj Welfare Foundation for undertaking this noble cause.
A complete progress report so far:

Number of free camps since 1998 ................ 11
Number of patients checked up ................ 30, 283
Total number of operations ................ 2319
Operation + number of general eye check-up ................ 32,602
Total expenditure so far ................ Rs. 60,30,955
Average expenditure per patient ................ 3000 (15,000/- expenditures of lens)
Practical support of the deserving patients
Such patients who do not get proper care in the hospitals and face difficulties in the procurement of medicine etc, the Minhaj Welfare Foundation gets their problems resolved by arranging meetings with relevant authorities. If need be, monetary support is also provided to such patients for ensuring good treatment. So far 732 patients have been given economic support.