Hussain Mohi-ud-Din Qadri as a Writer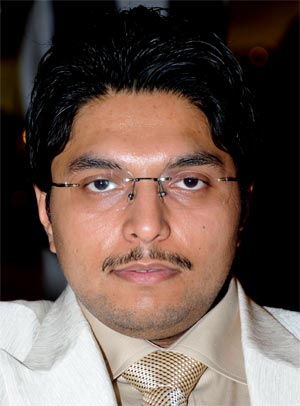 Hussain Mohi-ud-Din Qadri is a scion of a distinct scholarly, religious and spiritual family who has inherited his intellectual tastes and literary capabilities from his grandfather Dr Farid-ud-Din Qadri and his father Shaykh-ul-Islam Dr Muhammad Tahir-ul-Qadri.
Hussain Mohi-ud-Din Qadri is highly educated young man. He got his education up to intermediate level from Pakistan. He, then, moved to Canada where he did his graduation from York University Toronto with Political Science and Management as his majors. Later on, he got his Master degree in Business Administration on global economy from a renowned university of Paris namely Sciences-Po. Upon his return to the country last year, he got associated with Lahore University of Management Sciences (LUMS) in the capacity of Research Fellow. He has recently been offered an admission by an Australian university where he is doing his PhD on the subject of Global Political Economy. In addition to the acquisition of modern knowledge, he has also been getting education of Shariah and Islamic sciences.
Hussain Mohi-ud-Din Qadri has so far published a number of articles and research papers on national, international, political, social and economic topics in both Urdu and English languages in esteemed dailies of Pakistan including The Nation, The Money Plus, The News and Jang etc. Furthermore, four of his creative works have also seen light of the day; the first of these being a poetic anthology known as Naqsh-e-Awal, which was published in July 2007. This poetic collection contains the labours of his pen of seven years ie from the age of 13 to 19. The second intellectual work of Hussain Mohi-ud-Din Qadri appeared in the form of a book entitled Stratégie de diversification d'EDF à l'étranger. Written in French language, this book describes revealing facts and furnishes useful information about EDF, the biggest semi-government organization of France. This book throws light on and analyses various factors responsible for riots that erupted last year in France, the real story about the issue of salaries of employees and reasons of differences between EDF and government. Hussain Mohi-ud-Din Qadri has suggested various policy prescriptions by undertaking comprehensive appraisal of the problem.
The third book of Hussain Mohi-ud-Din Qadri is written in Urdu language under the title of The Sugarcane Industry in Pakistan (a critical appraisal). He has highlighted a number of facets of sugarcane industry in Pakistan and offered several solid suggestions to overcome problems facing the industry.
His fourth creative work entitled as Sugarcane Ethanol as an Alternate Fuel Source for Pakistan is a research-based work, which tends to explore sugarcane ethanol as viable energy source. The whole world is going through the worst of times characterized by energy and food crises with adverse implications for the global economies. Especially the economies of the third world countries have been hit hard by virtue of their sole dependence on consumption of oil, thereby increasing the import bill by causing the depletion of hard earned foreign currency reserves. For the first time in the history, the oil prices per barrel touched the psychological benchmark of $150. In this book, the learned author has analysed the possibility of using the sugarcane ethanol as an alternate fuel source along with the suggestions to make it a viable option. The book lays the foundation for future work on the subject.
Looking at his creative work at such a young age, it can safely be assumed that this young man has tremendous potential and will illumine a world with his knowledge. His name will, no doubt, be included among the prominent literary figures.
SAARC & GLOBALIZATION ISSUES, Prospects Policy Prescriptions
Why has SAARC miserably failed in delivering on its agenda?
What are the challenges posed to SAARC in a globalization-driven environment?
What can SAARC learn from other regional groupings like EU, NAFTA and AFTA etc to become a success story like them?
What is the role of economic self-sufficiency in strengthening national security?
Is national security merely a military doctrine or it incorporates other essential facets of national life?
What are implications of WTO for the developing world?
What role can United Nations play in making globalization friendlier to the developing countries through reform in its own structures, systems and procedures?
What are pluses and minuses of outsourcing, an aspect dominating the world economic scene these days?
How can terrorism be fought at individual and collective levels for greater enhancement of economic opportunities?
This book seeks to address these and many more questions in a simple and lucid manner.