A minority group defaming Islam through self-styled and self-seeking interpretation of its teachings: Shaykh-ul-Islam Dr Muhammad Tahir-ul-Qadri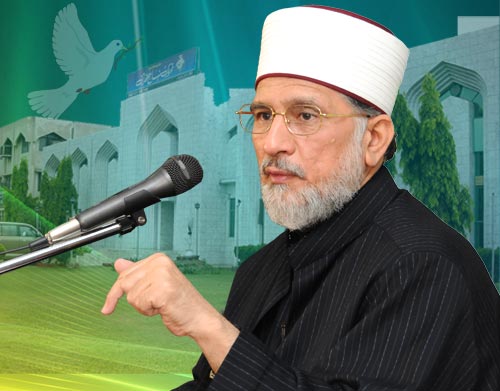 Felicitating the Minhaj-ul-Quran Ulama Council on the successful conduct of "Tahaffuz-e-Pakistan Ulama & Mashaykh Convention", Shaykh-ul-Islam Dr Muhammad Tahir-ul-Qadri dubbed the moot as the 'immediate need of the hour'. He said that unfortunately a minority group was defaming Islam globally by undertaking self-seeking and self-styled interpretation of Islamic teachings and thus providing the anti-Islam forces with the justification to accomplish their nefarious designs against the faith. In these circumstances, the responsibility fell on the shoulders of the religious scholars and Mashaykh that they came forward and showed the real face of Islam to the world.
He expressed these views while talking to Sayyid Farhat Hussain Shah, Nazim of Minhaj-ul-Quran Ulama Council on telephone from Canada yesterday. He said that Islam stood for the rights and security of the lives of the non-Muslims but handful of extremists were bent on bringing bad name both to Islam and Pakistan through their highly questionable actions. Pakistan was being pushed in the abyss of lawlessness in the name of imposition of Islamic system. Internal and external conspiracies were afoot to isolate and weaken Pakistan in South Asia and the rest of the world.
Shaykh-ul-Islam Dr Muhammad Tahir-ul-Qadri said that Islam made woman member of parliament 1400 years ago but alas people with narrow understanding of faith and bigoted mindsets were talking of slapping ban on her education today. Considering the women education as illegal is against Islam and the Holy Quran and those doing so were responsible for defamation of Islam. Islam gives equal amount of respect and place to women along with equal opportunities for acquisition of knowledge. It also guarantees their effective role in society and there is no space of self-styled interpretations in Islamic scheme of things. He said that Islam was being shown to the world as if it were irrelevant today. On the other hand, this Divine faith is a complete code of conduct guiding people till the Day of Judgment. He said war against the army and forces of an Islamic state was an outright violation of Islam.
Shaykh-ul-Islam said that those holding beliefs and ideology based on terrorism and extremism, rejection of democracy, violation of women rights, desecration of sacred religious places and shrines, mass-killing of humanity, suicide bombing, rebellion against the state institutions, violation of Constitution, occupation of cities by the armed men, and armed struggle against and Islamic state are only a minority group of Pakistan, who have nothing to do with Islam. This is rather a heinous conspiracy to defame Islam, and debunk its bright face.