Societal reform not possible without self reform: Sumaira Rafaqat
A ceremony to welcome the first-year students was held at the Minhaj College for Women the other day. Ms. Sumaira Rafaqat Advocate, central Secretary General of Minhaj Women League, was the chief guest on the occasion.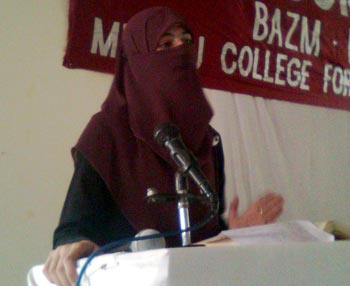 In her keynote speech, Ms. Sumaira Rafaqat said that the lucky are the people who get an opportunity to be in the blessed company of Shaykh-ul-Islam Dr Muhammad Tahir-ul-Qadri. She asked the new entrants to Minhaj College for Women to make the best use of this opportunity.
Commenting on the state of society, she said that our society is a perfect example of lawlessness, chaos and spiritual disorder. The situation has reached these alarming levels because our women have forgotten to play their role.
She said that the extent of our overall decay is measured by the all-encompassing decline of the Muslims in all fields of life. They are accused of terrorism and extremism in the world everywhere. We cannot cope with the contemporary challenges unless our women come forward and play their effective role in steering the nation out of crises. She further added that societal reform could not be possible without self reform and this is an area where MQI is working globally.