Website of WAAG Pakistan goes online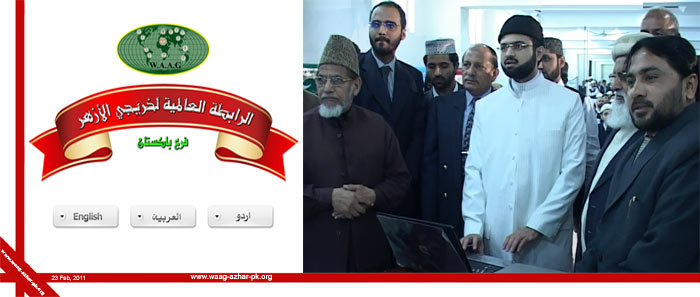 On February 23, 2011 at the Minhaj University, Sahibzada Hassan Mohi-ud-Din Qadri, chairman of WAAG Pakistan Branch inaugurated the official website of WAAG Pakistan Branch [http://www.waag-azhar-pk.org]. Speaking on this occasion, Sahibzada Hassan Mohi-ud-Din Qadri gave a detailed report on the performance of the World Association for Al-Azhar Graduates Pakistan Branch over the past year. He mentioned that Shaykh al-Azhar, Prof Dr Ahmad Muhammad Ahmad al-Tayyab, Dr Muhammad Abd al-Fudayl al-Qawsi, vice chairman of WAAG and Shaykh Osama Yasin, vice chairman for administrative affairs of WAAG were quite satisfied with the performance of the Pakistan Branch. WAAG Pakistan, he added, was being welcomed by many schools of thought and sectors of society through obtaining its membership. After briefing the participants about its activities he highlighted the salient features of the website which has been launched in three languages, namely Arabic, English and Urdu. This website, he said, fully represents WAAG of Al-Azhar University and will be covering all activities of its Pakistan Branch.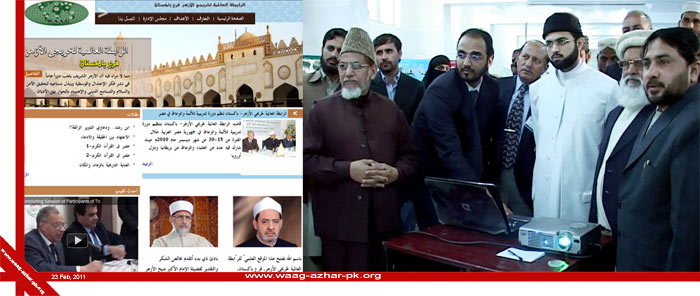 He also informed the meeting that a quarterly scholarly research journal, representing WAAG Pakistan Branch, will also be published in Arabic, English and Urdu called 'Da'wat-ul-Azhar'.
In his intellectual discourse on the occasion, Sahibzada Hassan Mohi-ud-Din Qadri deliberated upon what it means to be Al-Azhari, Al-Minhaji and Al-Muhammadi. He threw light on their distinctive features and emphasized that an Al-Azhari and Al-Minhaji must always strive to tread the path which will take them to the destination of being Al-Muhammadi. He also read out his recent composition on the occasion, which was very well appreciated by the audience.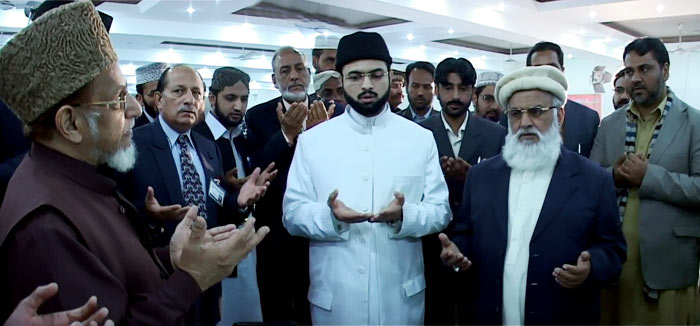 The inaugural ceremony of the website was attended by Shaykh al-Hadith Muhammad Mi'raj al-Islam, Mufti 'Abd al-Qayyum Hazarwi, Dr Khaliq Dad Malik, head of the Arabic Department of the Punjab University, Prof Muhammad Nusrullah Mu'ini, editor of a quarterly publication, staff and students of the Minhaj University and a majority of Al-Azhari graduates. These included associate professor at Minhaj University, Dr Ali Akbar Al-Azhari, Dr Zahoorullah Al-Azhari, vice principal of the College of Sharia and Islamic Sciences, Dr Muhammad Asghar Javed Al-Azhari, Shafaaqat Ali Baghdadi, Director of WAAG Pakistan Branch, Muhammad Usman Al-Azhari, Muhammad Hamid Al-Azhari, Qari Muhammad Ishtiaq Al-Azhari and Muhammad Farooq Rana assistant manager of Da'wat-ul-Azhar.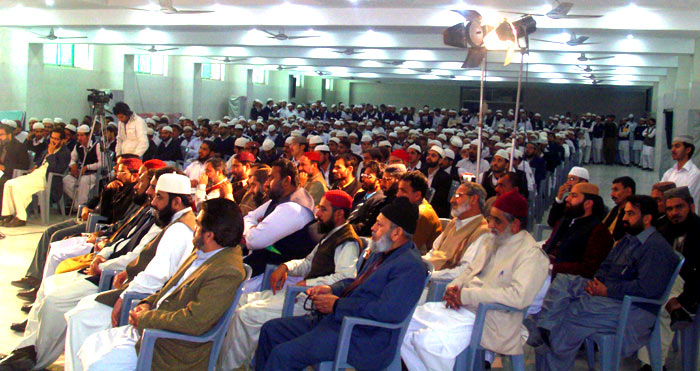 All the respected guests joined Sahibzada Hassan Mohi-ud-Din Qadri to cut the birthday cake of Shaykh-ul-Islam. Shaykh al-Hadith Muhammad Mi'raj al-Islam led the supplication for the good health and long life of Shaykh-ul-Islam Dr Muhammad Tahir-ul-Qadri.