Download: Application Form for Collective Marriages 2012
The founding brick of society is the family that commences with the wedlock of two individuals a man and women. It has thus assumed a religions, moral and cultural obligation for human begins to enter into the bond of marriage and raise a family contributing to the progression of humanity.
Many young boys and girls though having attained the marriageable age, can not sole wise this essential ritual for want of resources and in many cases the necessary where withal to equip their abode with the essential house hold items. The curse of dowry is another stigma that leaves a large number of deserving girls out of wedlock. There noses a dire need to institute some system whereby, these poor, resource less girls and boys could be wedded and given a fair share of their destiny to bad a productive life free of sin and become a useful member of the society.
Minhaj Welfare Foundation was the first NGO to initiate a project such as 'Collective Marriages' in Pakistan. Ever since the inauguration of congregational marriage project five years ago, 600 couples have got married. The burden of under privileged families has been relieved by MWF yet again in this unique project.
Collective marriages have also been arranged in other cities, creating a nation wide frenzy. There is an evaluation process before the marriages of any couple takes place, expert and senior member of MWF assess the case of the family. Mentioned below in the detail of what is provided to each couple.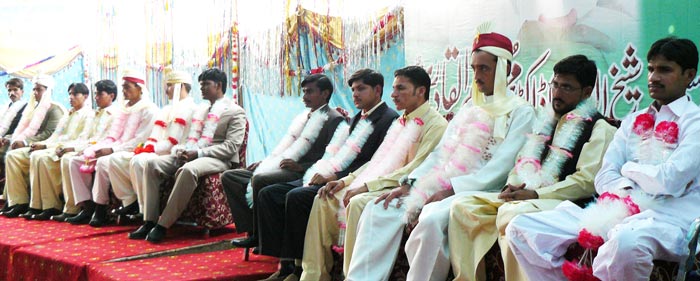 The following bridal gifts are provided to the happy couple
Irfan-ul-Quran
Al-Minhaj as-Sawiyy min al-Hadith an-Nabawiyy
Lectures CD's
Gas Stove
Sewing Machine
Color Television
Bed Sheets
Pillow
Tea Set & Cutlery Set
Washing Machine
Dinner Set
Double Bed
Double Bed Mattress Suitcase/ Briefcase
Pedestal Fan
Gold Set
Suits for Bride & Groom
Double Bed Blanket
Prayer Mat
DVD Player
Food for Family & Guest Furniture
Bride is given complete dowry of domestic use.
Both bride and groom are allowed 50 guest each.
A Proper wedding atmosphere is created
Volunteers ensure that the entire day goes without failure.
Contribute Rs. 150,000 towards a Marriage
The Marriages of 600 Couples have been arranged by Minhaj Welfare Foundation. The total cost of one marriage is Rs. 150,000; so far Rs. 9,00,00,000 has been spent on this project.
Minhaj Welfare Foundation
Freedom Account No. 01977900163103
HBL Minhaj-ul-Quran Branch Lahore