Minhaj Ulama Council holds conference on of Hazrat Ali (R.A)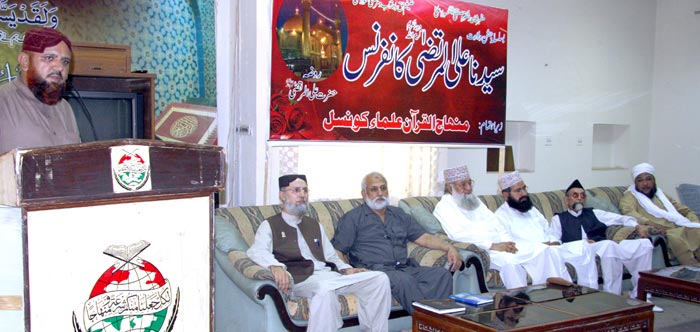 Minhaj-ul-Quran Ulama Council organized a conference to mark the birthday celebrations of Hazrat Ali (RA) in the central secretariat of MQI on June 4, 2012. Sahibzada Miskin Faiz-ur-Rehman Durrani, Amir-e-Tehreek, presided over the programme, whereas the distinguished participants included Allama Zahoor Ahmad Faizi, Allama Ali Ghazanfer Kararvi, Allama Qari Muhammad Jafar Shamsi, Allama Sahibzada Javed Akbar Saqi, Sayyid Farhat Hussain Shah, Allama Muhammad Hussain Azad, Sayyid Altaf Hussain Shah Gillani, and Allama Mir Asif Akbar Qadri.
In addition to these, a large number of people attended the conference.
The proceedings of the conference got underway with the recitation from the Holy Quran followed by Naat. A special 'manqabat' was also present in the praise of Hazrat Ali (RA).
The speakers paid rich tributes to the services and contributions of Sayyidna Hazrat Ali to the cause of Islam. They threw light on various aspects of his blessed life. Quoting various Hadith, they said that according to the saying of the Holy Prophet (SAW) only the believer would love Hazrat Ali (RA), while the hypocrite would nourish prejudice for him.
They referred to a Hadith narrated by Hazrat Saad bin Abi Waqas (RA) wherein he said that the Holy Prophet (SAW) mentioned three attributes of Hazrat Ali (RA) and had he (Saad bin Abi Waqas) been holder of any of these, he would have liked it more than red camels.
The Holy Prophet (SAW) said on one occasion: "Ali is at my place in such a manner as Haroon was at the place of Musa but there is no Prophet after me." He said: "I will confer knowledge on a person who loves Allah and His Prophet (SAW) and Allah and His Prophet (SAW) love him." (The narrator says that) he heard the Holy Prophet (SAW) say on (that occasion): "Ali is the master of one who has me as his master."
The conference ended on Dua.